A Place of Safe and Loving Care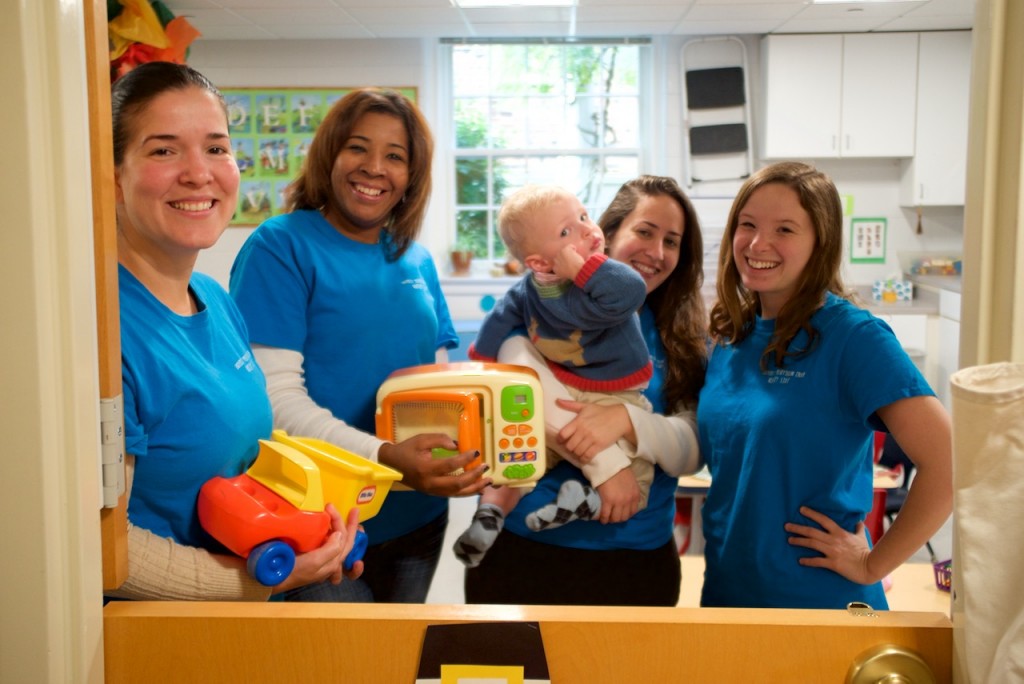 UPC employs paid Nursery Caregivers in addition to two Nursery Coordinators to provide the consistency and dependability needed for our infants and young children. A subcommittee of the Children's and Youth Ministry Committee oversees the weekly coordinating of nursery volunteers who are UPC members.
These volunteers are usually parents of children in the nursery, however we invite UPC members without children to serve in this area of the life of the church. If you enjoy caring for children, experiencing the gifts of wonder and delight they hold, you are encouraged to speak to a representative of the Children's and Youth Ministry Committee or to the Staff Associate for Children's Ministries.
Children and Worship
Like most of life, one learns to worship by practicing worship. This is especially true for children. Being in the sacred space of the sanctuary helps children to recognize that we come together to praise and sing, to pray and listen to God. These are not always easy lessons to learn, so we invite parents to ease their children into the worship experience by bringing them to worship for a brief part of the service. Near the beginning of the service is a special time for children (three-years-old through third grade) to gather at the Chancel steps with one of the pastors to hear a word about the Bible story of the day. Then those who are not ready to remain in the service can be taken to the nursery by a parent. UPC offers Godly Play for Kindergartners and children who are age four by September 1 of the current program year.
Your Child's Safety
The number one priority for the Nursery Staff of UPC is the safety of all children in our care. Parents are asked to be sure to SIGN IN and SIGN OUT as you drop off and pick up your child.
Nurseries Available During Worship
UPC enjoys two Sunday morning worship services throughout the year. During the 8:30 and 11:00 services childcare is provided on the first floor as you enter the building on the parking lot side. During the program year (September through May) childcare is also offered during the 9:45-10:45 education hour. Check-in for all children is in Room 134.
Infant Room (Room 130)
When it comes to infants and young children, faith formation is nurtured by the caregivers who provide loving care and a safe environment. The "Godly Gaze" that takes place between the youth or adult who holds or gently rocks a child, represents the child's first images of God. The Infant Room is a warm and welcoming place where parents will feel comfortable leaving their child.
Walkers to 3 Year Old Room (Rooms 134 & 133)
When a child begins to need more space for exploring and toddling around, he/she is welcomed into the room for Walkers and toddlers. Here the nursery staff are engaging children in creative play and helping them to explore the holy world around them.
Four Year Old Room (Room 136)
Four year old children gather in this room to hear Bible stories and to reflect and respond to the stories through art and creative play. Nursery staff encourage imaginative play and assist the children in understanding the meaning of God's love.
Nurseries During the Education Hour
Beginning at 9:30, parents can bring their infants and toddlers to the first floor Nurseries while they participate in the adult education opportunities (9:45-10:45). Check-in for all children is in Room 134.
Please Note…
Because so many children have FOOD ALLERGIES or other restrictions these days, snacks are not provided in the Nurseries. Parents are encouraged to provide a snack for their child and leave instructions with a Nursery Coordinator.