Advent Craft Festival and Alternative Gift Market
Join us on Sunday, November 18, in the Fellowship Hall for the annual Advent Craft Festival & Alternative Gift Market!
November 18 Schedule of Events:
Advent Craft Festival: 9:45 – 10:45 a.m.
Alternative Gift Market: 9:45 – 10:45 a.m. and 12:00 – 12:30 p.m.
Advent Craft Festival
What is it, and how does it work? The Advent Craft Festival is planned by the Children's Subcommittee. Children of all ages can make fun family crafts in preparation for Advent. We suggest participants either "dress down" or bring an old t-shirt or smock that can get messy. You might also want to bring a tote bag to store your completed crafts. Please contact Nancy Myer (nancy@upcch.org) or Tracy Lovelady (tracylovelady@gmail.com) if you would like to help us plan one of the crafts for the festival, donate supplies, or volunteer at one of the craft tables on the day of the festival.
As part of the Advent Craft Festival again this year, the Children's Sub-committee would like to include an activity that gives the children and youth of UPC an opportunity to reach out to other children in the community. We will be collecting non-perishable food to support the Weekend Meal Backpack Program sponsored by TABLE. Children and youth are invited and encouraged to bring in food contributions on October 28, November 4, and November 11. The meal bags will be packed by Advent Craft Festival participants on November 18, and the bags will be transported to TABLE.
To ensure that we collect enough of each type of food, each grade level has been assigned an item. We hope to collect at least 70 of each item so that we can pack 70 meal bags…so please feel free to bring in several!
3- & 4-year-olds: Granola bars
Kindergarten: Small plastic jars of peanut butter
1st & 2nd grade: Individual snacks (such as trail mix, low-sugar fruit snacks, small packages of nuts, etc.)
3rd grade: Small plastic jars of peanut butter
4th grade: 1 lb. packages of spaghetti noodles
5th grade: 15 oz. cans of tomato sauce (please get pop-top cans if possible)
6th & 7th grade: Cans of beans, such as black or pinto (please get pop-top cans if possible)
Confirmation: Small pop-top cans of fruit (cans instead of cups since cups burst easily in bags!)
High School: Individual oatmeal packets (or a box of 6, 10, etc.)
Alternative Gift Market
The Alternative Gift Market is organized by the Global Outreach Committee. This market offers an opportunity for folks to purchase a gift in honor of someone, such as a family member, friend, coworker, boss, etc. The alternative gift you select–food, medicine, livestock, shelter, development aid–will be sent overseas or to poverty-stricken areas in the United States by ecumenical non-profit agencies. At the Market, you will select a gift from a shopping list, pay for it (check or credit card) and get a descriptive insert to put in a free Christmas card you select and give to the person you are honoring. An alternative gift is a perfect "sustainable and green" gift idea that blesses the donor and the receiver. See below for Alternative Gift Market FAQs.
If you cannot attend the market, you may make an order at a table that will be set up in the narthex on Sundays, November 25, December 2, and December 9. We plan to have copies of the shopping lists in the narthex and at www.upcch.org/resources by mid-October.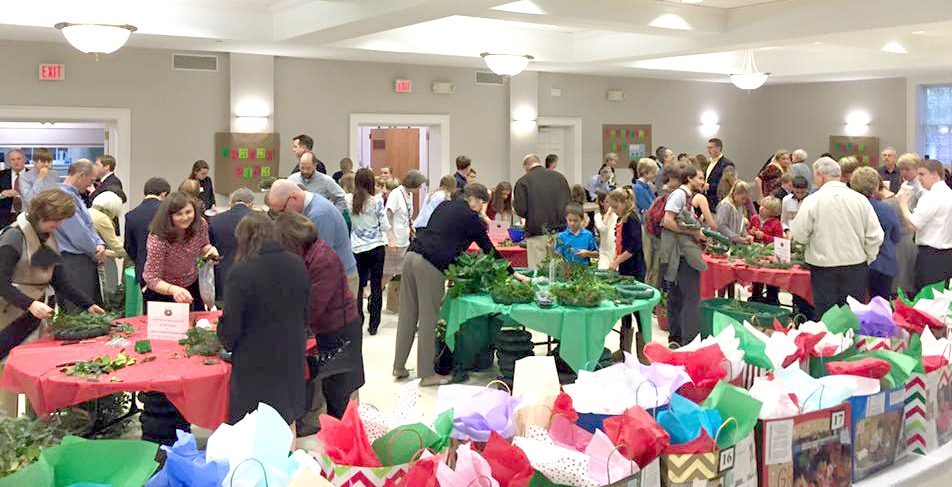 Save the date of November 18 for snacks,
coffee, crafts, alternative gifts, and FUN!
Alternative Gift Market FAQs
Why is an Alternative Gift better than a "real" present?
With a "real" gift, you can make someone happy by showing you have thought of them and bought a gift especially meant for them. An Alternative Gift does this very well, too, PLUS, an AG won't be boring, lost, forgotten, broken, or need to be exchanged. An AG will help a person or a program in need. An AG will benefit the person you honor as they (and you) feel the satisfaction of helping others.
Isn't an Alternative Gift awfully impersonal?
Absolutely not! You will want to make sure the gift you choose is one that your honoree truly cares about. This is easy with the wide selection of Alternative Gifts that are available.
I enjoy Christmas shopping for people. 
Can an Alternative Gift be fun to give?
Of course, the fun of giving a gift is finding the perfect gift. You can't go wrong with an Alternative Gift because there are so many choices. You will surely find a gift that is unique and perfect for your honoree.
Is there a way to give an Alternative Gift and
also make people happy who like to open a present?
Those of us who have given Alternative Gifts for many years occasionally accompany the AG with an actual package to open. Books are ideal for this purpose.
Is an Alternative Gift suitable for children under 12?
It is never too early to begin teaching children about the importance of helping others. The best way to manage this with young children is to accompany the AG with a present they can play with. For example, give a stuffed animal that matches an AG farm animal donation, a book about the country benefiting from the donation, a superhero or transformer that is a "good guy"  who helps others, a book about kindness, helping others, paying it forward, etc. Really, kids won't notice if the real gift doesn't reflect the AG, but it's nice if you can make the point.
I'm not sure how to begin the tradition of giving Alternative Gifts. 
How might I get started?
You can always make it known that you would prefer to receive an Alternative Gift. In that way, you set a good example and can get the conversation started about the joys of Alternative Gift giving and receiving.
Join us for the Alternative Gift Market on Sunday, November 28,
from 9:45 – 10:45 a.m. in the Fellowship Hall!