Love Gifts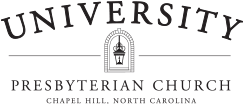 April 15, 2020
To the University Presbyterian Church Family
Dear Friends,
After eighteen years of leading worship in this place our Director of Music Ministry, Tom Brown, is retiring effective June 1st. He has rendered remarkable service to University Church, and we grieve his departure. Tom has lifted us into the mystery of God and enabled our praise. Our music ministry has known excellence and beauty under his leadership. 
And after twelve years of ministry with and alongside UNC students through our Presbyterian Campus Ministry, the Rev. John Rogers is departing to take on a new call in supporting campus ministry across North Carolina, effective July 3rd. He has wisely shepherded young people along the journey of faith and has been a strong and faithful leader in UPC's outreach to the University. 
So, before they leave us, the Session wants to honor their strong tenures among us.  While we originally hoped to celebrate Tom's retirement on Pentecost, May 31st, we may have to delay that due to COVID 19. Rest assured that the Congregational Life Committee of the Session is planning a retirement reception for Tom and a separate farewell reception for John. When we are able to gather, we will inform you of when we can honor each of them, including presenting them with a monetary love gift from the congregation.
If you would like to participate in those gifts, please send your contribution to the church, marked "Brown Love Gift" and/or "Rogers Love Gift" by May 31, if possible.
Thank you.
Allison Chambers, Clerk of Session