Jarrett grew up in Raleigh, North Carolina where he had a pretty regular childhood – riding bikes around the neighborhood, muddling through school, trying to play various sports (emphasis on try), going through a phase of wearing lots of black in high school, and through it all, always finding a place of welcome in the Church.
Jarrett became a "traitor" to his NC State traditioned family when he went to UNC-Chapel Hill for college.  Missing youth group terribly, Jarrett quickly discovered Presbyterian Campus Ministry where, in addition to exploring his call to ministry, he also met Meg.
After college, Jarrett served as a youth minister for one year and then spent another year traveling, spending a great deal of time in Port-au-Prince, Haiti living in community with disabled children at Wings of Hope.
He then went to Union-PSCE Seminary (now "Union Presbyterian Seminary") and then went on to serve as an associate pastor for mission and young adult ministry at Village Presbyterian Church in Kansas City.  In June of 2013 Jarrett and Meg accepted a call to serve as co-pastor Heads-of-Staff at Burke Presbyterian Church. In July of 2013 they learned that they would be expecting. In August of 2013 they learned they would be expecting twins.  In September of 2013 they moved and told the Church all of this on their second Sunday. Jarrett is very much looking forward to NOT repeating that pattern as they accept the call to serve University Presbyterian Church.
When not engaged at Church, Jarrett enjoys running and hiking.  He is also an obsessive music fan intent on keeping up with independent music of all kinds – reading blogs and record reviews, scoping out live shows and constantly spinning tunes in the car, home or office.  Most of all, Jarrett has a deep passion for the Church as a place of radical welcome and hospitality and tries his best every day to honor the ways he has experienced that in his own life as grace upon grace.
Meg Peery McLaughlin
Pastor
Meg feels called to share good Gospel news–in word, in deed, in silence, in all things–to all of God's beloved children.
She is a native of North Carolina, graduated with a Bachelor's in English Literature from the University of North Carolina at Chapel Hill and with a Master's in Divinity and in Christian Education from Union Presbyterian Seminary in Richmond, VA.
Meg was ordained as a Minister of Word and Sacrament in 2006, at Village Presbyterian Church near Kansas City, MO, where she served for seven years in the role of Pastoral Care. She and Jarrett accepted a call to serve as co-pastor Heads-of-Staff at Burke Presbyterian Church in June of 2013 where they served for 6 years before coming to UPC.
Meg and Jarrett have three young daughters: big sister Naomi and, twins, Caroline and Zanna. She has hitched her life to the promise that Jesus Christ is the light that overcomes darkness, is the love that is stronger than all fear, and is the sure and certain assurance that new life is possible, even when it seems otherwise.
Kate Fiedler
Associate Pastor for Adult Ministries
Kate joined the staff in November of 2014 as the Associate Pastor for Adult Ministries. She focuses her energy on strengthening the adult education program, coordinating congregational life events, and extending warm hospitality to new members.
Kate grew up in Virginia and North Carolina, and she has moved back and forth across the state line seven times. She is a graduate of Davidson College and Union Presbyterian Seminary. Before arriving in Chapel Hill, Kate served as the Associate Chaplain at Trinity Episcopal School in Charlotte–teaching third through eighth graders–and then as the Director of Admissions at Union Presbyterian Seminary.
Kate enjoys road trips, live music, reading, exploring new restaurants, and cheering on her favorite sports teams: the Bears, the Cubs, and the Tar Heels.
John Rogers
Associate Pastor for Campus Ministry
John was born in Raleigh, lived in Cary and then Fuquay-Varina until he was 11. From age 11-18 John spent most of his time on the golf course and mowing lawns in central Florida. While in Florida John's Lutheran mother and Baptist father found their way to a Presbyterian church in DeLand. Since then, 1986, John has grown to love the connectionalism and theology of the Presbyterian church. After graduating from DeLand High School John attended and graduated from Greensboro College where again he spent many hours on the golf course playing collegiately for four years. While at GC John felt a nudge to pursue seminary and a career and calling working in the church. John attended Duke Divinity School (but with two parents as UNC-Chapel Hill alums, kept faithful to his Carolina athletic allegiance). While at Duke Divinity John did several internships ranging from directing Presbyterian Point Camp, youth work at First Presbyterian Church Durham, a summer with Southeast Alaska Volunteers in Mission, Clinical Pastoral Education (CPE) at UNC Hospitals, and as campus ministry intern at UNC PCM with Ollie Wagner. After completing his MDiv degree John accepted a call to be the Chaplain at McCallie School in Chattanooga, TN. While at McCallie John oversaw the chapel schedule, taught in the Bible department, coached golf, and  served on several committees. In the spring of 2008 John accepted the call to be the Associate Minister for Campus Ministry at University Presbyterian Church and started in July.
As the campus minister John works with a congregation of mostly undergraduate students that ranges from about 50-70 students each year. Students at PCM come by for Thursday night dinner, small groups,  fellowship, programs, and throughout the week for other activities and worship at UPC. John also  staffs the outreach committees at UPC.
John is excited about his part in this longstanding ministry and UPC's wholehearted commitment to the University of North Carolina at Chapel Hill's students, faculty, and staff. John is married to Trina Rogers. They have two daughters, Liza (11), who lives in Chattanooga, TN, and Cate (toddler) and one son, James.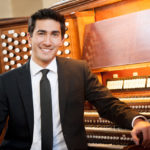 Joey Fala
Temporary Music Minister
Joey
is thrilled to have the opportunity to be a part of the music ministry at a thriving church like UPC. He most recently served as associate organist across the street at Chapel of the Cross, and as organ scholar at "the other place" (Duke University Chapel).
Joey
is a graduate of the Yale School of Music where he received his MM in organ, studying with Martin Jean and Thomas Murray. He previously served as Director of Music at First United Presbyterian Church downtown Troy, NY through his undergraduate career at Rensselaer Polytechnic Institute where he received a bachelors degree in architecture and masters in lighting.
Joey
is originally from Honolulu, Hawaii.
A recipient of the American Guild of Organists Porgorzelski-Yankee Memorial Scholarship and the Robert Baker Scholarship,
Joey
has competed and won prizes in the AGO Competitions for Young Organists, The Arthur Poister Competition, and the Albert Schweitzer Organ Competition, Hartford. He was recently named one of "20 under 30" by The Diapason Magazine, and has been a featured solo artist at regional and national conventions of the American Guild of Organists and Organ Historical Society. As a recitalist, he has performed at the Cathedral of St. John the Divine NYC, St. Patrick's Cathedral NYC, Trinity Church Boston, Our Lady of the Angels Cathedral LA, Harvard University's Busch Hall, and the Washington National Cathedral. Most recently, he accompanied the Duke Chapel Evensong Singers on their UK residency at Gloucester Cathedral.
Joey
also serves as carillonneur at Duke University, performing the weekday 5pm recitals.
Joey
and his wife Sarah, a Duke Divinity student, reside in Durham, North Carolina.
Kathleen Jasinskas
Director of Children's and Youth choirs
Kathleen began as the Director of Children's and Youth choirs in 2019. She grew up in Kansas City, KS and holds a Bachelor of Music in Voice from The Juilliard School and a Master of Music in Opera from Binghamton University. Kathleen owns a piano and voice studio in Chapel Hill, and is on the faculty of the Community Chorus Project's Summer Glee Program each summer. In addition to teaching, she maintains an active performing career, working locally with the North Carolina Opera, Duke Bach Singers and as a soloist with the Hillyer Community Chorus in Raleigh. In her free time, Kathleen loves spending time with her pets (two dogs & one cat), trying out new restaurants with her husband, and enjoying time with her 3 year old son.
Kim McNeill
Staff Associate for Youth Ministries
Kim McNeill began as the Staff Associate for Youth Ministries in November of 2007.  Kim graduated from UNC-Chapel Hill in 2003 with a degree in Recreation and Leisure Studies and Psychology.
As a product of University Presbyterian Church's Campus Ministry program, she spent the fall of 2003 as an intern in the Center for Youth and Young Adult Ministry at Montreat Conference Center.  In January of 2004, she returned to Chapel Hill as the Camp Director at New Hope Camp and Conference Center.
Kim grew up in the small town of Red Springs, NC, where she developed her southern accent and love for bluegrass music.  Kim bleeds Carolina Blue and knows the words to all of the UNC fight songs. She loves leading games that make you laugh, organized chaos, and trips in the van.
Kim lives in Durham with her dog Murphy.
Nancy Myer
Staff Associate for Children's Ministries
Nancy began as the Staff Associate for Children's Ministries in October 2014.  Nancy grew up in west central Illinois and graduated in 2005 from Millikin University in Decatur, Illinois, with a Bachelor of Science in elementary education.  She continued on to get a Master of Arts degree in education from Ball State University in Muncie, Indiana. Before joining the staff at University Presbyterian Church, Nancy served congregations in Knoxville, TN, and Indianapolis, IN.   Nancy is a Certified Christian Educator in the PC(USA) and is currently pursuing a Master of Divinity degree and a Master of Arts in Christian Education degree at Union Presbyterian Seminary in Charlotte.  In her free time, you'll find her reading, watching Michigan State sports, and doing just about any craft imaginable!   She also enjoys traveling to visit her family.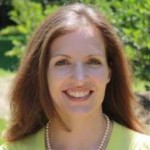 Ellen Parker
Director, University Presbyterian Preschool
ELLEN PARKER was hired as Director of University Presbyterian Preschool in August 2009.
Jeanette Schmidt
Office Manager
Jeanette joined the staff of University Presbyterian Church in August of 2007. Her initial role was church secretary and in 2011, she was promoted to office manager. She enjoys meeting and talking to all the members of UPC and is happy to help people with their upcch.org questions and/or issues.
In her spare time, you can usually find her reading, working out, or watching various shows on Netflix.
Melanie Chanko
Administrative Assistant
Melanie began her work as Administrative Assistant on December 3, 2019
Katharine Yager
Controller
Katharine is the Controller here at University Presbyterian Church. As the Controller, she is responsible for everything related to finance. This includes internal and external reporting, governmental filings, investments, audits, payroll and benefits. Katharine has a B.S. in Accountancy from Northern Illinois University and holds a C.P.A. license in Illinois and North Carolina. She has experience in public accounting, internal audit and manufacturing, but prefers to work for not-for-profits. Katherine joined the administrative staff at UPC in June 2014. When asked why she likes working at the church, Katharine said, "I enjoy being able to help everyone at UPC in some way. I am fortunate to have found a place to use my accounting skills to serve God and my fellow man."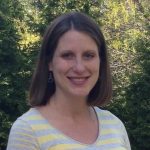 Melani Willhite
Financial Assistant
Melani serves University Presbyterian Church as the part-time Financial Assistant. In this role, she assists with the day-to-day financial duties of the church and of University Presbyterian Preschool (UPPS). Melani grew up in Watkins Glen, NY and moved to NC in 1999. She graduated from UNC-Chapel Hill in 2004 with degrees in Management and Society and Sociology. With her husband, Patrick, she has four daughters. When asked why she enjoys working at University Presbyterian Church, Melani said, "I love working with the congregation and my fellow staff here at UPC. I started working here in 2004, took some time off to be at home with my children, and am happy to be back as a part-time employee." We're so glad to have you as part of our administrative staff, Melani!
Rob is the Sexton here at University Presbyterian Church. He's responsible for helping to clean, set up and generally maintain the church property and building. Dennis Dallke, UPC's Property Manager, oversees all aspects of the property, and as a team, Rob and Dennis ensure the building is always in suitable condition for staff, Sunday mornings, events and meetings. The flexibility of Rob's position has enabled him to have other jobs to provide for his family. When asked what he likes most about working at UPC, Rob said, "Dennis and I want the church to be a place where people come together to serve, learn and teach for a better community. It's been a pleasure watching families grow and seeing how the church becomes an important part of their daily lives. As members of the UPC staff, we're here to serve and to make your church an enjoyable place to be, no matter how or when you choose to use it."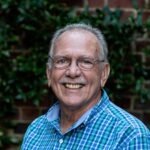 Dennis Dallke
Property Manager
Dennis Dallke is UPC's Property Manager. He takes care of the church building so members never have to worry about the facilities when coming to worship, meetings, events or other gatherings. Dennis couldn't do his job alone. Together with Rob Kurtz, UPC's Sexton, Dennis keeps the building and facilities running smoothly and looking great. Through his diverse career, Dennis has gained the skills and knowledge he uses to serve the congregation at UPC. He's worked in hospitals, in a hotel, for a railroad, as a freelance potter and in churches, including Methodist and Episcopal churches and a Jewish synagogue. He grew up in the church in Southern California and is the son of a Methodist minister who exemplified service. After school, Dennis moved to Oregon where he married his first wife. He also served in a hospital as a conscientious objector instead of going to Vietnam. He then moved to Alaska to work on the White Pass and Yukon Railway. After their daughter was born, Dennis and his family moved to Florida and eventually to a small community outside Elkin, North Carolina. After the death of his first wife, he felt called back to the church. He married his wife Becky in 1987 and began working at UPC in 1992. Becky and Dennis have two sons together, and now, they have a young granddaughter whom they adore. Dennis would like to share with you why he enjoys working at UPC: "In my time here, you all have helped me learn that the church is all about the people. The building is secondary and wouldn't be of any use if you weren't here. It's really been a pleasure to be working with and serving all of you these last 25 years. I have found that I would rather work in the Lord's house than anywhere else."