played by Thomas Brown, Minister of Music
Requires Quicktime.
Welcome. I'm delighted to offer some of my favorite music recorded during performances at University Church. As with any live and un-edited recordings, these tracks contain audience noise and even a wrong note or two (and always in the worst places!), and so I ask your patience. Yet, live recordings also provide a communication and energy difficult to achieve any other way. Although it's not possible to record the organ or choir during our regular worship, I hope this music, performed and professionally recorded at special concerts, will in any case give a taste of the musical life of University Church.
To listen, please click on the title or specific movement of any work.  Use your browser's 'back' button to return to this page for more music.  You will need Apple "Quicktime" loaded on your computer in order to listen.
> Download Quicktime from Apple.
CDs Available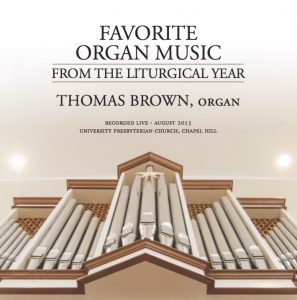 Purchase your own copy of Thomas Brown's performance of "Favorite Organ Music from the Liturgical Year," recorded on the Sanctuary Organ in 2015.
Contact mailto:brown@upcch.org to order yours today!
For more details on this outstanding recording, visit ThomasBrownMusic.com
At the Piano
JOHANN SEBASTIAN BACH  1685-1750
ITALIAN CONCERTO, BWV 971
MILY BALAKIREV  1830-1910
Au jardin (In the Garden, 1884)
LUDWIG VAN BEETHOVEN  1770-1827
SONATA IN A-FLAT MAJOR, Op. 110
I.  Moderato cantabile, molto espressivo
II.  Molto Allegro
III.  Adagio, ma non troppo…
FRÉDÉRIC CHOPIN  1810-1849
Scherzo in C-sharp minor, Op. 39
Sonata in B minor, Op. 58: Presto non tanto; Agitato
CLAUDE DEBUSSY  1862-1918
Hommage à Rameau (from Images, Book I)
La Puerta del Vino (from Préludes, Book II)
Reflets dans l'eau (from Images, Book I)
ENRIQUE GRANADOS  1867-1916
The Maiden and the Nightingale (from Goyescas)
CHARLES GRIFFES  1884-1920
The White Peacock (from Roman Sketches, Op. 7)
FELIX MENDELSSOHN  1809-1847
From Songs Without Words:
Venetian Gondola Song in F-sharp minor, Op. 30, No. 12
Spinning Song in C Major, Op. 67, No. 34
SERGEI RACHMANINOFF  1873-1937
Prelude in G-sharp minor, Op. 32, No. 12
MAURICE RAVEL  1875-1937
Sonatine
I.  Modéré
II.  Mouvement de menuet
III.  Animé
SERGEI PROKOFIEFF  1891-1953
Sonata No. 7 in B-flat Major, Op. 83
III.  Precipitato