Praise Him with the timbrel and dance: praise Him with stringed instruments and organs. – Psalm 150:4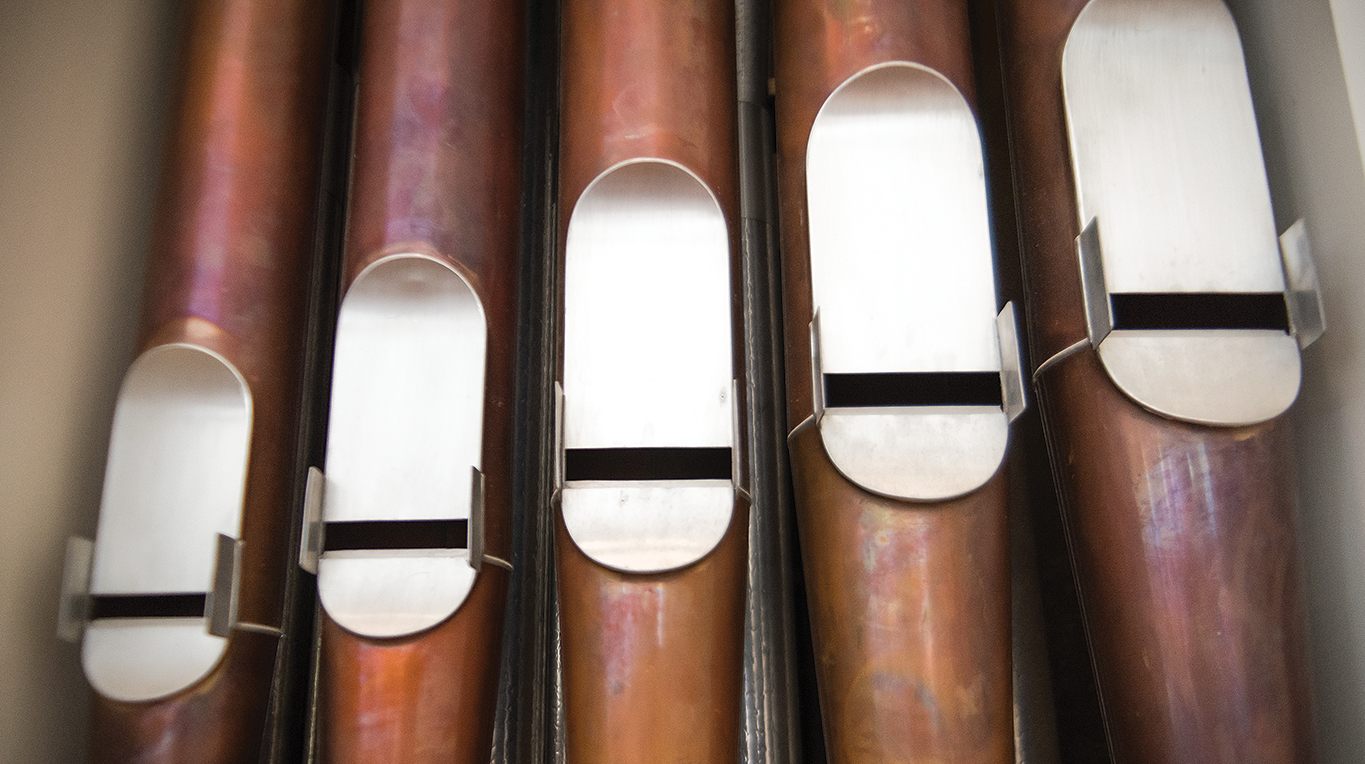 Since the Tenth Century, when it was first adopted as the instrument of the Church in Western Europe, the organ has given its noble voice to adorn and enhance the worship of God. We continue that great tradition a thousand years later here in Chapel Hill with the organ music that is offered each week to the Glory of God in our worship at University Church.
Learn more about the Sanctuary Organ and what makes it a special part of worship at University Presbyterian Church.
Want to hear this fabulous instrument? Listen to recordings of Thomas Brown at the Sanctuary Organ.
The following is a listing of the active repertoire heard on Sunday mornings during the Opening Voluntarys and, to a lesser extent, during the Offering at the early (non-choral) Worship Service. The Organ Postludes are always improvised. In addition to Sunday morning musical offerings, works marked with an asterisk (*) were also performed in concert at the church. Following this list of organ music is another listing of (mostly) piano music performed in special evening concerts by Thomas Brown.
Organ Music
JEHAN ALAIN 1911-1940
Choral Dorien JA67
Deuxième Fantasie JA 117*
Litanies JA 119
Postlude pour l'Office de Complies JA29
Première Fantaisie JA 72*
JOHN ALCOCK  1715-1806
Siciliano
THOMAS ARNE 1710-1778
Siciliano
Concerto I (Introduction and Fugue)
JOHANN SEBASTIAN BACH 1685-1750
Adagio (Toccata, Adagio & Fugue BWV 564)
Allein Gott in der Höh' BWV 662 (c.f., Leipzig Chorales)*
Allein Gott in der Höh' BWV 664 (trio, Leipzig Chorales)*
Allein Gott in der Höh' BWV 675 (Clavierübung III)
Allein Gott in der Höh' BWV 676 (trio, Clavierübung III)
Allein Gott in der Höh' BWV 677 (Manualiter, Clavierübung III)
An Wasserflüssen Babylon BWV 653 (Leipzig Chorales)
Aus tiefer Not schrei ich zu dir BWV 686 (Clavierübung III)
Christ lag in Todesbanden BWV 625 (Orgelbüchlein)
Christe, aller Welt Trost BWV 670 (Clavierübung III)
Christe, aller Welt Trost BWV 673 (Manualiter, Clavierübung III)
Christe, du Lamm Gottes BWV 619 (Orgelbüchlein)
Christum wir sollen loben schon (Orgelbüchlein)
Christ, unser Herr, zum Jordan kam BWV 684 (Clavierübung III)
Da Jesus an dem Kreuze stund BWV 621 (Orgelbüchlein)
Das alte Jahr vergangen ist BWV 614 (Orgelbüchlein)
Der Tag, dir ist so freudenreich BWV 605 (Orgelbüchlein)
Durch Adams Fall is ganz verderbt BWV 637 (Orgelbüchlein)
Erbam dich mein, o Herre Gott BWV 721
Erschinen ist der herriche Tag BWV 629 (Orgelbüchlein)
Erstanden is der heilge Christ BWV 628 (Orgelbüchlein)
Fantasia in C Minor BWV 537i
Fantasia in G Minor BWV 542i
Fugue in C Major BWV 547ii
Fugue in D Minor (Dorian) BWV 538ii
Fugue in E-flat Major BWV 552ii (Clavierübung III)
Fugue in G Major, BWV 541ii
Fugue in G Major (Gigue) BWV 577
Fugue in G Minor BWV 542ii
Fugue in G Minor BWV 578 (Little)
Gelobet seist du, Jesu Christ BWV 604 (Orgelbüchlein)
Gottes Sohn ist kommen BWV 600 (Orgelbüchlein)
Herr Christ, de einge Gottes-Sohn BWV 601 (Orgelbüchlein)
Herr Jesu Christ, dich zu uns wend BWV 632 (Orgelbüchlein)
Herzlich tut mich verlangen BWV 727 (Orgelbüchlein)
Heut triumphieret Gottes Sohn BWV 630 (Orgelbüchlein)
Ich ruf zu dir, Herr Jesu Christ BWV 639 (Orgelbüchlein)
In dir est Freude BWV 615 (Orgelbüchlein)
In dulci jubilo BWV 608 (Orgelbüchlein)
In dulci jubilo BWV 729
Jesu, meine Freude BWV 610 (Orgelbüchlein)
Jesus Christus, unser Heiland BWV 626 (Orgelbüchlein)
Jesus Christus, unser Heiland BWV 666 (Leipzig Chorales)
Jesus meine Zuversicht BWV 728
Komm, Gott Schöpfer, Heiliger Geist BWV 667 (Leipzig Chorales)
Komm, Gott Schöpfer, Heiliger Geist BWV 631 (Orgelbüchlein)
Komm, heiliger Geist, Herre Gott BWV 651 (Leipzig Chorales)
Kommst du nun, Jesu BWV 650 (Schübler Chorales)
Kyrie, Gott heiliger Geist BWV 671 (Clavierübung III)
Kyrie, Gott heiliger Geist BWV 672 (Manualiter, Clavierübung III)
Kyrie, Gott Vater in Ewigkeit BWV 669 (Clavierübung III)
Kyrie, Gott Vater in Ewigkeit BWV 672 (Manualiter, Clavierübung III)
Liebster Jesu, wir sind hier BWV 633 (Orgelbüchlein)
Liebster Jesu, wir sind hier BWV 706
Liebster Jesu, wir sind heir BWV 731
Lobt Gott, ihr Christen, allzugleich BWV 609 (Orgelbüchlein)
Nun danket alle Gott BWV 657 (Leipzig Chorales)
Nun Komm, der Heiden Heiland BWV 659 (c.f., Leipzig Chorales)
Nun Komm, der Heiden Heiland BWV 661 (Organo pleno, Leipzig Chorales)
Nun Komm, der Heiden Heiland BWV 599 (Orgelbüchlein)
Meine Seele erhrbt den Herren BWV 648 (Schübler Chorales)
O Lamm Gottes, unschuldig BWV 656 (Leipzig Chorales)
O Lamm Gottes, unschuldig BWV 618 (Orgelbüchlein)
O Mensch bewein dein Sünde groβ BWV 622 (Orgelbüchlein)
Pastorale, BWV 590
Prelude in C Major (9/8) BWV 547i
Prelude in C Minor BWV 546i
Prelude in G Major BWV 541i
Prelude in A Minor BWV 543i
Schmücke dich, o liebe Seele BWV 654 (Leipzig Chorales)
Sheep May Safely Graze (from Cantata 208, arr. Thomas Brown)
Toccata and Fugue in D Minor BWV 565
Toccata in D Minor (Dorian) BWV 538i
Trio Sonata I BWV 525 -Adagio; Allegro
Trio Sonata II BWV 526 – Largo
Trio Sonata III BWV 527 – Andante; Adagio e dolce
Trio Sonata IV BWV 528 – Adagio/Vivace; Andante; Un poco Allegro
Trio Sonata V BWV 529 – Allegro; Largo; Allegro
Vater unser in Himmelreich BWV 636 (Orgelbüchlein)
Vom Himmel hoch, da komm ich her BWV 606 (Orgelbüchlein)
Von Gott will ich nicht lassen BWV 658 (Leipzig Chorales)
Wachet auf, ruft uns de Stimme BWV 645 (Schübler Chorales)
Wachet auf, ruft uns de Stimme BWV 645 (arranged for Trumpet and Organ by Thomas Brown)
Wenn wir in höchsten Nöten sein BWV 668 (Leipzig Chorales)
Wenn wir in höchsten Nöten sein BWV 643 (Orgelbüchlein)
Wer nur den lieben Gott lässt wolten BWV 642 (Orgelbüchlein)
Wir danken dir, Herr Jesu Christ BWV 623 (Orgelbüchlein)
Wir glauben all' an einen Gott, Schöpfer BWV 680 (Clavierübung III)
Wo sol ich fliehen hin BWV 646 (Schübler Chorales)
JOHANN CHRISTOPH BACH  1642-1703
Erbam dich mein o Herre Gott
CLAUDE-BÉNINGE BALBASTRE 1727-1799
Noël: Joseph est bien Marié
Noël: Tous les Bourgeois de Chartres
SAMUEL BARBER 1910-1981
Adagio for Strings
LÉON BOËLLMANN
Prière à Notre-Dame (Suite Gothique, Op. 25)
GEORG BÖHM 1661-1733
Allein Gott in der Höh'
GUY BOVET b. 1942
Salamanca (Trois Préludes Hambourgeois)*
JOHANNES BRAHMS 1833-1897
Est ist en Ros' ensprungen, Op. 122 No. 8
Herzlich tut mich verlangen, Op. 122, No. 9
Herzlich tut mich verlangen, Op. 122, No. 10
Herzlich tut mich erfreuen, Op. 122 No. 4
Herzliebster Jesu, Op. 122, No. 2
O Gott, du frommer Gott, Op. 122, No. 7
O Welt, ich muß dich lassen, Op. 122 No. 3
O Welt, ich muß dich lassen, Op. 122, No. 11
O wie selib seid ihr doch, ihr Frommen, Op. 122, No. 6
Schmücke dich, o liebe Seele, Op. 122, No. 5
DIETERICH BUXTEHUDE 1637-1707
In dulci jubilo BuxWV197
Fugue in C Major BuxWV174
Gelobet seist du, Jesu Christ BuxWV189
Komm, heliger Geist BuxWV199
Nun bitten wir den Heiligen Geist BuxWV208
Nun komm, der Heiden Heiland Bux WV211
Vater unser im Himmelreich BuxWV 219
Wir danken dir, Herr Jesu Christ BuxWV224
WILLIAM BYRD 1543-1623
Salvatore mundi
ANDRÉ CAMPRA 1660-1744
Rigaudon
JEAN-JACQUES CHARPENTIER 1734-1794
Tambourin sur des Noëls
LOUIS-NICHOLAS CLÉRAMBAULT 1676-1749
Basse et Dessus de Trompette (Suite du Premier Ton)
Basse de Cromorne (Suite du Deuxième Ton)
Caprice sur les Grands jeux (Suite du Deuxième Ton )
Duo (Suite du Deuxième Ton)
Plein Jeu (Suite du Deuxième Ton)
MICHEL CORRETTE 1707-1795
Noêl: Michau qui causoit ce grand bruit
BENJAMIN COSYN c.1570-1653
Fantasia
FRANÇOIS COUPERIN 1668-1733
Basse de Trompette (Messe pour les Couvents)
Cromorne sur la Taille (Messe pour les Couvents)
Cromorne en Taille (Messe pour les Paroisses)
Dialogue sur les Grands jeux (Messe pour les Couvents)
Dialogue sur les Grands jeux (Agnus)(Messe pour les Couvents)
Dialogue sur les Grands jeux (Gloria) (Messe pour les Pariosses)
Dialogue sur la Trompette… (Kyrie) (Messe pour les Couvents)
Dialogue sur les Trompettes… (Gloria) (Messe pour les Pariosses)
Dialogue sur la Voix humaine (Messe pour les Couvents)
Fugue sur les jeux d'anches (Messe pour les Pariosses)*
Offertoire dur les Grands jeux (Messe pour les Pariosses)*
Petite fugue sur le Cromorne (Messe pour les Couvents)
Plein chant du premier Kyrie, en Taille (Messe pour les Paroisses)*
Plein Jeu (Agnus) (Messe pour les Couvents)
Plein Jeu (Et in Terra pax) (Messe pour les Pariosses)
Plein Jeu (Gloria) (Messe pour les Couvents)
Plein Jeu (Kyrie) (Messe pour les Couvents)
Récit de Cornet (Sanctus) (Messe pour les Couvents)
Récit de Cromorne (Messe pour les Couvents)
Tierce en taille (Messe pour les Couvents)
Tierce en taille (Messe pour les Pariosses)*
FRANÇOIS DANDRIEU 1682-1738
Á minuit fut fait un Reveil
Carillon ou Cloches
Chantons je vous prie (I)
Chantons je vous prie (II)
Mais on san es allé Nau
Michau qui causoit ce grand bruit
O Filii et Filiæ
O Nuit heureuse Nuit
Où s'en vont ces gais Bergers
Puer nobit nascitur
Quand le Sauveur Jesus Christ
Savez vous mon cher voisin
Tous les Bourgeois de Chartres
Vous qui desirez san fin
LOUIS-CLAUDE D'AQUIN 1694-1772
Noël Étranger
Noël sur les Flûtes
Noël Grand jeu et duo
PIERRE DuMAGE 1674-1751
Basse de Trompette (Livre d'orgue)
Grand jeu (Livre d'orgue)
Récit (Livre d'orgue)
Tierce en Taille (Livre d'orgue)
MARCEL DUPRÉ 1886-1971
Antiphon III: Très lent et sans rigeur Op. 15, No. 3
Antiphon V: Andante Moderato Op. 15, No. 5
Placare Christe servulis (Le Tombeau de Titelouze, Op. 38)
Prelude in B Major, Op. 7
Variations sur un Noël, Op. 20*
THOMAS SANDERS DUPUIS 1733-1796
Trumpet Voluntary
MAURICE DURUFLÉ 1902-1986
Scherzo, Op. 2*
Prélude sur le nom d'Alain, Op. 7
Fugue sur le nom d'Alain, Op. 7
Toccata (Suite Op. 5*)
EDWARD ELGAR 1857-1934
Nimrod (from Enigma Variations, Op. 36)
JOHANN ERNST 1696-1715
Concerto in G Major – Allegro; Grave; Presto (Transcribed by J.S. Bach  BWV 592)
CÉSAR FRANCK 1822-1890
Andante (Grande Pièce Symphonique)
Choral in A Minor*
Choral in B Minor*
Prélude, Fugue, et Variation
THOMAS GIESCHEN  1932-2006
Pastorale on Silent Night
EUGÈNE GIGOUT 1844-1925
Grand Choeur Dialogue (from Six Pièces, 1881)
Scherzo (from Dix Pièces, 1892)*
Allegretto (Tonalité Ecclésiastique, from Cent Pièces, 1920)
Andantino (Tonalité Ecclésiastique, from Cent Pièces, 1920)
MAURICE GREENE 1696-1755
Andante (from a Voluntary)
NICHOLAS DE GRIGNY 1672-1703
Veni Creator en taille à 5
Duo (Veni Creator)
Dialogue sur les Grands jeux (Veni Creator)
Récit deTierce en taille (Livre d'orgue)
GEORGE FRIDERIC HANDEL 1685-1759
A Fugue (Dulwich College MS)
Andante (from Concerto I, Op. 4, No. 1)
FRANZ JOSEF HAYDN 1732-1809
Six Pieces for a Musical Clock (arr. E. Power Biggs)
ANTON HEILLER 1923-1979
Ecce lignum crucis
HERBERT HOWELLS 1892-1983
Psalm Prelude Op. 32, No. 1*
GRAYSTON IVES b. 1948
Intrada
JOHN JAMES d. 1745
A Voluntary (Dulwich College MS)
A Voluntary for the Full Swell and Cornet (Dulwich College MS)
A Voluntary for Full Swell, Cornet and Flute (Dulwich College MS)
SiIGFRID KARG-ELERT 1877-1933
Nun danket alle Gott, Op. 65 (Marche triomphale)
Schmücke dich, o liebe Seele, Op. 65
O Gott, du frommer Gott, Op. 65
JOHANN LUDWIG KREBS  1713-1780
Praeambulum supra Christ lag in Todesbanden
CARL SELLAR LANG 1891-1971
Tuba Tune, Op. 15
JEAN LANGLAIS 1907-1991
Chant de paix (Neuf Pièces)
Hymne d'Action de Grâce "Te Deum" Op. 5, No. 3
Incantation pour un Jour Saint, Op. 64
Mors et Resurrectio, Op. 5, No. 2
Prière (Vingt-quatre Pièces, No. 15)
NICOLAS LEBEGUE  1630-1702
À la Venue de Noël

BENEDETTO MARCELLO 1686-1739
Psalm XIX
LOUIS MARCHAND  1669-1732
Fond d'Orgue (Premier Livre d'Orgue)
Dialogue (Premier Livre d'Orgue)
Basse de Trompette (Cinquième Livre d'Orgue)
FELIX MENDELSSOHN 1809-1847
Sonata I – Adagio
Sonata I – Allegro assai vivace
Sonata II – Grave; Adagio
Sonata III – Andante tranquillo
OLIVIER MESSIAEN 1908-1992
Apparition de L'Église éternelle (1932)
WOLFGANG AMADEUS MOZART 1756-1791
Church Sonata I in E-flat, K. 67
Adagio for Glass Harmonica, K. 356
JOHANN PACHELBEL 1653-1706
Allein Gott in der Höh sei Ehr
Da Jesus an dem Kreuze stund
Durch Adams Fall is ganz verderbt
Ein' feste Burg is unser Gott
Nun komm, der Heiden Heiland
Magnificat peregrini toni (manualiter)
Magnificat peregrini toni
Preludium in D Minor
Toccata in E Minor
Vom Himmel hoch, da komm' ich her (three part)
Vom Himmel hoch, da komm' ich her
Wei schön leuchtet der Morgenstern
Wenn wir in höchsten Nöten sein
FLOR PETERS 1903-1986
Aria, Op. 51
PETER PHILIPS 1561-1628
Galliardo
ANDRÉ RAISON ?1645-1719
Basse et Dessus de Trompette (Messe du Premier Ton)
Plein Jeu/Grand Jeu (Messe du Deuxième Ton)
Trio en Passacaille (Messe du Deuxième Ton)
MAX REGER 1873-1916
Benedictus, Op. 59, No. 9
Jesus, meine Zuversicht, Op. 135a
Liebster Jesu, wir sind hier, Op. 135a
Toccata in D Minor, Op. 59, No. 5*
Fugue in D Minor, Op. 59, No. 6
ANTONIO SOLER  1729-1783
Concerto in G Major – Andantino
The Emperor's Fanfare (arranged by E. Power Biggs)
CHARLES VILLIERS STANFORD 1852-1924
Postlude in D minor, Op. 105, No. 6
JOHN STANLEY 1712-1786
Voluntary for the Trumpet Stop
ERIC THIMAN 1900-1975
A Scherzetto for the Flutes
JOHN TRAVERS  c.1703-1758
Cornet Voluntary
Trumpet Voluntary
RALPH VAUGHAN WILLIAMS 1872-1958
Rhosymedre (Three Preludes on Welsh Hymn Tunes, 1920)
LOUIS VIERNE 1879-1937
Adagio (Symphonie III)
Berceuse (24 Pièces in style libre)*
Carillon de Westminster (Pièces de Fantaisie)
Final (Symphonie I)
Impromptu (Pièces de Fantaisie)
Lied (24 Pièces in style libre)
Naïades (Pièces de Fantaisie)*
Scherzetto (24 Pièces in style libre)
ANTONIO VIVALDI 1678-1741
Concerto in A Minor – Allegro, Adagio (Transcribed by J.S. Bach, BWV 593)
HELMUT WALCHA 1907-1991
Den die Hirten lobten sehre
Gottes Sohn ist kommen
Herzliebster Jesu, was hast du verbrochen
O Mensch, bewein dein Sünde groß
O wir armen Sünder
Zu Bethlehem geboren
WILLIAM WALOND 1725-1770
Cornet Voluntary
JOHANN GOTTFRIED WALTHER 1684-1748
Schaffe in mir, Gott, ein rein Herz
Lobe den Herren
Wacht auf, ruft uns die Stimme
CHARLES WESLEY 1757-1834
Pastorale
SAMUEL SEBASTIAN WESLEY 1766-1837
Diapason Piece
Hornpipe (from an Organ Concerto)
PERCY WHITLOCK 1903-1946
Folk Tune (Five Short Pieces)
CHARLES-MARIE WIDOR 1844-1937
Andante sostenuto (Symphonie Gothique)*
Toccata (Symphonie V)
HEALEY WILLAN 1880-1968
Chorale Prelude on Quem pastores laudavere
Introduction, Passacaglia and Fugue*
SEARLE WRIGHT 1918-2004
Carol-Prelude on Greensleeves
Prelude on Brother James' Air
FRIEDRICH WILHELM ZACHAU 1663-1712
Christ lag in Todesbanden
Piano Music
Music for Piano performed by Thomas Brown at his annual piano recitals at University Church
JOHANN SEBASTIAN BACH 1685-1750
Italian Concerto BWV 971
Fugue in E-flat Major, BWV 552 (Transcribed for piano by Ferruccio Busoni, 1866-1924)
Jesu, Joy of Man's Desiring (Transcribed for piano by Myra Hess, 1890-1965)
Organ Prelude in G minor, BWV 535i (Transcribed for piano by Alexander Siloti, 1863-1945)
Prélude (Lute Suite II) BWV 1006a
Prelude and Fugue in C-sharp Minor BWV 849 (Well-Tempered Klavier I)
Prelude and Fugue in B-flat Minor BWV 862 (Well-Tempered Klavier I)
MILY BALAKIREV 1837-1910
Au Jardin (1884)
AMY BEACH 1867-1944
Dreaming (from Four Sketches, Op. 15)
LUDWIG VAN BEETHOVEN 1770-1827
Sonata in A Major, Op. 2, No. 2
Sonata in C-sharp Minor, Op. 27, No. 2 "Moonlight"
Sonata in F Minor, Op. 57 "Appassionata"
Sonata in E Major, Op. 109
Sonata in A-flat Major, Op. 110
JOHANNES BRAHMS 1833-1897
Intermezzo in A Major, Op. 118, No. 2
Intermezzo in B Minor, Op. 119, No. 1
Intermezzo in E Minor, Op. 119, No. 2
Intermezzo in C Major, Op. 119, No. 3
Rhapsody in E-flat Major, Op. 119
FRÉDÉRIC CHOPIN 1810-1849
Ballade in F Minor, Op. 52
Ballade in G Minor, Op. 23
Étude in C-sharp Minor, Op. 10, No. 4
Étude in A-flat Major, Op. 25, No. 1
Fantaisie in F Minor, Op. 49
Nocturne in D-flat Major, Op. 27, No. 2
Scherzo in B-flat Minor, Op. 31
Scherzo in C-sharp Minor, Op. 39
Scherzo in E Major, Op. 54
Sonata in B Minor, Op. 58
CLAUDE DEBUSSY 1862-1918
Claire de lune (Suite Bergamesque)
Estampes
Pagodes
La soirée dan Grenade
Jardins sous la pluie
Images (Book I)
Reflets dans l'eau
Homage à Rameau
Mouvement
La cathédrale engloutie (Préludes, Book I)
La Puerta del Vino (Préludes, Book II)
L'Isle joyeuse
Pour le Piano
Prélude
Sarabande
Toccata
Rêverie
GABRIEL FAURÉ 1845-1924
Nocture in D-flat Major, Op. 63
FRANZ LISZT 1811-1886
Étude de concert "Un Sospiro"
Transcendental Etude in F Minor – Allegro agitato molto
FELIX MENDELSSOHN 1809-1847
Three Songs Without Words
E Major, Op. 19, No. 1
F-sharp Minor, Op. 30, No. 12 (Venetian Gondola Song)
C Major, Op. 67, No. 4 (Spinning Song)
WOLFGANG AMADEUS MOZART 1756-1791
Sonata in D Major, K576
FRANCIS POULENC 1899-1963
Intermezzo in A-flat Major (1943)
SERGEI PROKOFIEFF 1891-1953
Sonata No. 3 in A minor, Op. 28
Sonata No. 7 in B-flat Major, Op. 83 – Precipitato
SERGEI RACHMANINOFF 1873-1943
Prelude in E-flat Major, Op. 23, No. 6
Prelude in G-sharp Minor, Op. 32, No. 12
Étude-Tableau in C Minor, Op. 33, No. 2
Étude-Tableau in E-flat Minor, Op. 39, No. 5
Étude-Tableau in D Major, Op. 39, No. 9
Sonata in B-flat Minor, Op. 36
Vocalise (Transcribed for piano by Earl Wild, 1915-2010)
MAURICE RAVEL 1875-1937
Jeux d'eau
Ondine (Gaspard de la Nuit)
Sonatine
Modéré
Mouvement de menuet
Animé
Toccata (Le Tombeau de Couperin)
CAMILLE SAINT-SAËNS 1835-1921
Le Cygne (Transcribed for piano by Leopold Godowski, 1870-1938)

ROBERT SCHUMANN 1810-1856
Carnaval, Op. 9
Organ and Trumpet Music
JOHANN FREDRIC FASCH 1688-1758
Concerto in D Major
ALAN HOVHANESS 1911-2000
Prayer of Saint Gregory
FRANCISCO MANFRIEDINI 1684-1762
Concerto in D Major for Two Trumpets
DANIEL PINKHAM b. 1923
Psalms
ANTHONY PLOG b. 1947
Four Themes on Paintings of Edvard Munch
HENRY PURCELL  ca.1659-1695
Sonata
GUISEPPIi TARTINI 1692-1770
Concerto in D Major