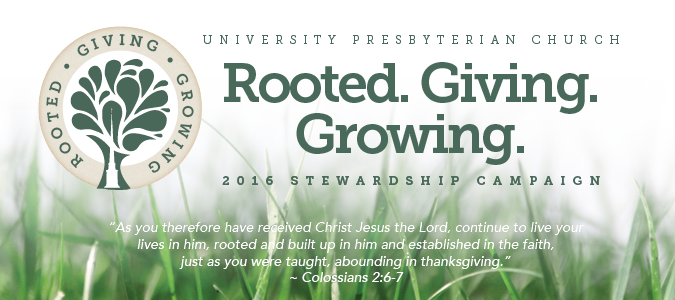 Campaign Update
$1,748,009 Dollars Pledged
432 Pledges Made
221 Pledges increased from 2015
Thank you!
A Season for Stewardship
Each year we enter a time of discernment and faithful prayer about what it means to be stewards of God's gifts. The Stewardship Committee has worked diligently to provide meaningful ways to engage with the process, including gatherings, announcements, brochures, videos, and even this site. As we walk together through this season, may we all be attentive to God's call.
Sarah Owen describes one of the things she loves most about UPC. What do you love most?
Sandy Alexander shares the story of how UPC—and his 75-year-old mother!—inspired him to go on his first mission trip to Haiti.
Ellie Richardson describes how UPC members were "always there" for her during the most difficult time in her family's life.
Jim Baxley recalls his family's first visit to UPC, when they "reveled in the community of music and worship" during the annual Lessons and Carols worship service. What was your first experience at UPC?
Ed Preston vividly describes the variety (and ages) of heads you'll see Sunday mornings at UPC. "The whole spectrum," Ed says. "We love that!" What do you love about UPC?
Elizabeth Moshier describes UPC's strong commitment to Outreach as "a very important part of our mission as Christians."
Tracy Lovelady recalls how UPC's invitation to "make noise" at a family-friendly Christmas Eve service helped her family decide to join the church. What inspired you to join?
Stewardship Committee
Daphne and Crowell Little, Ashley and John Wilson – 2016 Campaign Chairs Perry Aycock, Kirsten Barker, Jim Baxley, Don Hunter, Jay Klompmaker, Crowell Little, Daphne Little, Nancy Oates, Scott Singleton, Ashley Wilson and John Wilson