Are you ready to rest, relax, and retreat from your
everyday patterns and routines?
Are you ready to discover how God is guiding us to walk a different path?
Join your church family in beautiful Montreat as we experience scripture, keynotes, workshops, pottery, hiking, and much more!
Don't miss this opportunity to live in community with your church family as we explore the theme: Guide My Feet.
***Before you click "Register Now," please be sure you know the workshop choices for all participants you are registering!***
Friday night – Guide My Feet… In Community.
We'll register at Assembly Inn in Montreat and spend time enjoying all that Montreat has to offer through scavenger hunts, games, and recreation. Later in the evening, we'll introduce leadership and spend time in Chatter Groups, which are mixed age groups that we'll come back to throughout the weekend. Then, our night owls will enjoy "Late Night in the Lobby" for games, guitars, and good times.
Saturday morning – Guide My Feet… In Relationships.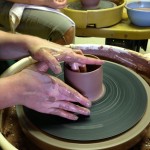 After breakfast, we'll gather in Convocation Hall for our first keynote from Theresa Cho. We'll move into workshops where folks will have the chance to experience the theme in a variety of ways: pottery, poetry, bible study, crafts, cooking and more!
Saturday Afternoon – Guide My Feet… In Soul Tending.
After lunch and another chance to enjoy workshops, we will dive into some free time. Participants will have the chance to hike, rock hop, go into Black Mountain for shopping, take a swing at the Black Mountain Golf course or enjoy an afternoon of rest.
Saturday Night – Guide My Feet… In Supporting Others.
We'll experience the theme through another keynote from Theresa and move into an evening of recreation with a staple of good times at Montreat: a barn dance followed by a late night campfire.
Sunday morning – Guide My Feet… In Service.
As we prepare to head down the mountain and back into the real world, we'll prepare our hearts and minds for service to others through a hymn sing and worship.
Why the Vanderseas Retreat
Why Does Theresa Cho Retreat?
Why Do Singletons Retreat?
Meet our Keynoter: Theresa Cho
Theresa Cho currently lives in San Francisco and serves as Co-pastor at St. John's Presbyterian Church, where she puts intergenerational ministry into practice on a regular basis.  She is a west coast gal, meaning she loves seafood, 60 degree weather, and the laid back lifestyle.  She graduated from McCormick Theological Seminary in Chicago with awards in preaching and theology. She loves to teach and has keynoted, preached, and led workshops at a variety of different conferences. She is currently working on her Doctor of Ministry degree at Fuller Theological Seminary in Pasadena. Theresa loves to write and has published articles and written blogs in Christian Century, Sojourners God's Politics, Christians for Biblical Equality, ecclesio.com, the Presbyterian Leader, and other blog sites, including her own, Still Waters. She balances her time serving as a co-pastor, subverting her husband's diet with baked goods, cheering on her son at soccer games, and delighting in her daughter's unique displays of being herself.
Where we're staying:
Most of the group will stay in hotel rooms in Assembly Inn, where we'll also have meals and group meeting space. You have a choice of private or adjoining baths. Youth (6th-12th grade) will stay across the lake in dormitory style housing. We have rented one additional Lodge that is a short walk from Assembly Inn. This space is ideal for parents with elementary children and couples. Space is limited so register early!
Retreat Fees:
Conference Fees (per person):
Conference fees include meals – Saturday breakfast through Sunday breakfast.
Adults: $75
Children (5-11): $55
Children (4 & under): $40
Lodging (for two nights):
Assembly Inn – One room, connecting bath: $176
Assembly Inn – One room, private bath (2 twin beds): $200
Assembly Inn – One room, private bath (2 twin beds + room for an air mattress): $200
Assembly Inn – Second adult staying in room: Free
Young Adult (1 person – no kids) – Cabin Lodging: $53
Young Adult (2 people – no kids) – Cabin Lodging: $106
Lodge – One room, private bath: $200
Lodge – Second adult staying in room: Free
Youth staying in youth housing: $100
Child(ren) staying in room with parent(s) in Assembly Inn or Lodge: Free
Agenda
Friday Night
6:30pm: Registration
6:30-7:30pm: Scavenger hunt
7:30-8:30pm: Community Building
8:30-9:30pm: Gathering
9:30-10:30pm: Late night in the Lobby
Saturday
(Childcare provided 8:30-12:15, 1:00-3:15, 6:45-8:30)
7:30-8:30am: Breakfast
8:45-10:00am: Keynote
10:00-10:30am: Chatter Groups
10:45am-Noon: Workshops
Noon-1:00pm: Lunch
1:30-3:00pm: Workshops
3:00-6:00pm: Free Time
5:30-6:30pm: Dinner
7:00-8:15pm: Keynote
8:15-8:30pm: Chatter Groups
8:30-9:30pm: Barn Dance
9:30-10:30pm: Campfire
Sunday Morning
(Childcare provided 9:15-11:30)
7:30-8:30am: Breakfast
9:30-10:00am – Hymn Sing
10:00-10:15am – Chatter Groups
10:15-11:15am – Worship
Our Saturday Workshops – You can choose these when you register.
Infants – Pre-Kindergarten – This age group will spend time together playing and enjoying the company of other UPC children.
Kindergarten – 2nd grade – This age group will come together for workshops that explore the theme "Guide My Feet."  These workshops will be tailored specifically to their developmental needs.
Pottery – work with a local potter to create your own keepsake Montreat memory out of clay. (3rd grade & up)
Crafts – get creative with our project leaders and make something! (3rd grade & up)
Bible Study – take an in-depth, fresh look at our weekend scripture theme. (6th grade & up)
Baking – have fun creating some wonderful baked desserts to share with the group. (6th grade & up)
Games & Energizers – do you know what an energizer is? It is great fun – and high energy! Join us for fun and games. (3rd grade & up)
Music – What a wonderful way to celebrate the weekend and rejoice with a little singing, percussion, and time to interact with one another through music. (3rd grade & up)
Meditation – relax in the beautiful mountain setting and get in touch with yourself and God. (6th grade & up)
Nature walk – explore the area around the retreat center and identify some of those native plants. (3rd grade & up)
Yoga – whether you are an old pro or would just like to try it out, bring your mat and join us (6th grade & up)
Poetry – let the beauty of nature be your guide as you reflect on poems of nature (6th grade & up)
Theology of grilling – yes, we really can connect over the coals and make some tasty appetizers to share. (6th grade & up)
Hiking – so you are in the woods, what do you need to know to have a fun, safe time – and find your way back!  (3rd grade & up)