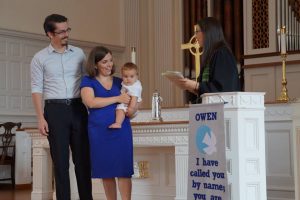 But now thus says the Lord,
    he who created you, O Jacob,
    he who formed you, O Israel:
Do not fear, for I have redeemed you;
    I have called you by name, you are mine…
Because you are precious in my sight,
    and honored, and I love you.
-Isaiah 43:1,4a
Baptism is the sign and seal of incorporation into Christ. The disciples were empowered by the outpouring of the Spirit to undertake a life of service and to be an inclusive worshiping community, sharing life in which love, justice, and mercy abounded. In Baptism, we die to what separates us from God and are raised to newness of life in Christ. Baptism unites the people of God with each other and with the church of every time and place. Baptism is God's gift of grace and also God's summons to respond to that grace. Baptism calls to repentance, to faithfulness, and to discipleship. Baptism gives the church its identity and commissions the church for ministry to the world. (from the Book of Order, W-2.3000)
Baptisms are scheduled by emailing Nancy Myer, Staff Associate for Children's Ministries, at nancy@upcch.org, or by calling her at 919-929-2102. At UPC, it is our practice not to schedule baptisms on the first Sunday of the month as that is when we celebrate the sacrament of communion.
SaveSave
SaveSave