Sunday Morning Classes
Sunday Morning Classes
Term 3: January 7 – February 11, 2018
9:45-10:45 a.m.
Click here

for more information about Term 3 classes.
Bible Study: Faith and Money
Location: Vance Barron Hall
Facilitator: Elizabeth Michael
Living Out Our Faith: Parenting and Technology:
Teaching Our Children How To Be Good Christian Digital Citizens
Location: Terrace Room
Facilitators: Lauren Garber and Leslie May
Connections: Town and Steeple
Location: Dunham Hall
Facilitator: Brad Geerdes and Vince Tollers
Books available in class or from Kate Fiedler (kate@upcch.org; 919-929-2102 ext. 130)
Click here for a Classroom Map
Other Opportunities
Evening Programs
Bible Studies
Woman to Woman Discussion Group: Thursdays, 12:30-2:00 pm
We Choose Welcome Initiative
As part of the We Choose Welcome initiative, the Adult Education Committee offered three discussions about how UPC will join the PC (USA) movement. During its February meeting, the Session engaged in a thoughtful discussion about how we at UPC can reach out with hospitality to the refugees in our community. One part of this initiative invites the congregation to join the ongoing discussion, each a stand-alone session, as we discern as a church family how to respond.
Sunday, March 12: Language Matters:  The PC (USA) 2015 resolution, invitation, context, and history, and the UPC resolution. Facilitator: Kate Fiedler
Sunday, March 19: Neighbors and Natives, Foreigners and Friends, Strangers and Sojourners…Come explore some of the scriptures' witness to how the people of God are called to be in relationship across nationalities and boundaries. Facilitator: Elizabeth Michael
Sunday, March 26: Now What?: How will UPC live into being a welcoming community? Facilitators: Reid Chisholm, Ashley Wilson, and the Outreach Committee
Click here to learn more about the We Choose Welcome movement from the PC (USA) website.
Click here to read the resolution passed by the Session in February.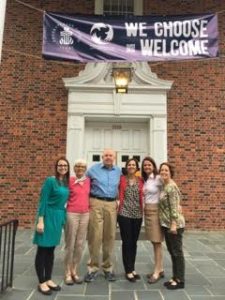 Members of the Adult Education Committee under the We Choose Welcome banner.
Mission Statement
University Presbyterian Church
Adult Education Mission Statement
Adopted August 20, 2015
According to Matthew, Jesus said the greatest commandment is, "You shall love the Lord your God with all your heart, and with all your soul, and with all your mind. This is the greatest and first commandment. And a second is like it: You shall love your neighbor as yourself. On these two commandments hang all the law and the prophets." (Matthew 22:37-40)
We at University Presbyterian Church, as part of God's people in the Reformed tradition, seek to love God and our neighbors through educational opportunities that:
*are rooted in the Bible and present topics through a Christian "lens of faith"
*incorporate theology professed by the Presbyterian Church (USA) and the Reformed tradition
*integrate worship, study, and service
*nurture spiritual exploration and development
*encourage faithful living in concert with Christ's mission
*welcome participants of all ages, backgrounds and beliefs
*respect and welcome other denominations and faiths
An essential function of a congregation is to provide educational opportunities that challenge people of all ages to become more aware of and to discern God's call. We believe such study should touch upon all aspects of our lives as individuals and as a church community, informing our mission and enhancing our worship of God.