Being Church in a New Day
Worship with us this Sunday at 8:30 or 11:00 am!
Here we believe that God is love;
and that love is for everyone.
God's extravagant love changes the world
and moves us to respond in gratitude.
Whoever you are and whoever you are becoming,
you are not only welcome here, but invited
to shape this community with your God-given gifts.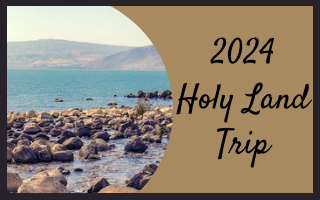 In the Spring of 2024 (April 30-May 11), UPC plans to take a group of pilgrims to the Holy Land. Why travel to the Holy Land? Our shared faith is an incarnational one. We profess that God took on human flesh, was born in a specific patch of land, walked on Palestinian...
read more