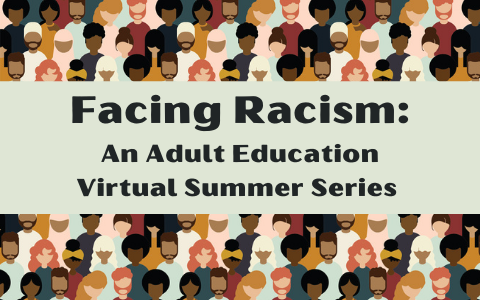 Together with the Adult Education Committee, UPC's Racial Equity Team presents:
Facing Racism: An Adult Education Virtual Summer Series
Please join us for any or all of these conversations as your summer schedule allows.
Registration is required to receive the Zoom link.
A link to register will be provided in the weekly email.
Session 1: A Christian perspective on racial justice (June 20, 11am – 12pm)
Led by Hank Water & Jarrett McLaughlin; Q&A facilitated by Erin Kent
What does scripture have to say about racial justice? What about our theological traditions?
Join us as we explore why these conversations should matter to the Church.
Session 2: UPC perspectives on race and racial equity (July 18, 11am-12pm)
Led by Thad Monroe & Nancy Benjamin
In our second session of "Facing Racism" we examine University Presbyterian's history regarding matters of race.  We will speak to a few specific moments in the life of this Church and how these episodes continue to shape our congregation in the current moment.
Session 3: Where do we go from here? (August 15, 1-2pm)