They take the timbrel and harp, and rejoice
at the sound of the organ.
– Job 21:12
In my eyes, and to my ears,
the organ is the King of Instruments.
– Wolfgang Amadeus Mozart in 1777
A BRIEF HISTORY OF UNIVERSITY PRESBYTERIAN CHURCH AND ITS ORGANS
The Presbyterian Church in Chapel Hill was organized in 1829, and built its first sanctuary, located on the church's present site, in the 1840s.  It is unknown if that sanctuary ever contained an organ.  After nearly eighty years of service, this building was replaced by a second edifice dedicated in 1920 and designed by Hobart Upjohn, a noted and prolific architect in North Carolina and beyond.  (Upjohn was the grandson of Richard Upjohn, co-founder of the American Institute of Architects and architect of Trinity Church Wall Street, Grace Church Brooklyn Heights and many other notable buildings throughout the Northeast.)  1920 also saw the installation of a new organ, built by the Estey Organ Company of Brattleboro, Vermont.  The two-manual instrument, Estey Op. 1695, spoke into the sanctuary's divided chancel through two identical cases.  On Ash Wednesday, 1958, this building and organ were consumed by fire, as were most of the church's historical records.  As a result, the organ's specification and other details are lost.  The church bell, cast in 1858 by the Meneely Bell Foundry of West Troy, New York, stands near the present portico.  Cracked from its fall during the fire, it is all that remains of the second church.
The congregation's third sanctuary was dedicated on November 18, 1962.  Envisioned and designed by Philadelphia architect Harold E. Wagoner, it is built in a refined and innovative neo-Georgian vernacular that bears Wagoner's unmistakable imprint.  (Wagoner would write in 1982 that "…in many ways your [University Church's] interior is the best, or at least one of the very best, of the many colonial churches we have designed.")  The commodious and gracious sanctuary, seating 650, is lit by tall, clear-glazed windows in the nave aisles.  Its chancel was originally designed and built in the then-typical divided choir arrangement.  Although a large organ chamber at the rear of the chancel stood ready to receive a substantial pipe organ, a Hammond RT-2 organ (the "concert" model) served for twenty years until the present organ was installed.  The bell in the church tower was cast in 1974 by the Royal Bellfoundry Petit & Fritsen of Aarle-Rixtel, Holland, bellfounders since 1660.  It sounds "B" above middle "C," is 31 1/2 inches in diameter, 25 1/2 inches high and weighs 704 pounds.  Room remains in the belfry for additional bells.
A committee was formed in 1982 to consider the reconfiguration of the chancel in anticipation of the installation of the present organ.  Under the direction of Harold Wagoner, the chancel was extended eight feet into the nave to accomodate a reorganization of the pulpit, font, communion table and retable.  At this time, the divided choir was eliminated in favor of its current composition of two rows and one riser.  Finally, the large grill that covered the opening of the organ chamber, and which had essentially functioned as a reredos, was removed in preparation for the new organ.
THE PRESENT ORGAN
The Sanctuary Organ is the result of the collaboration between American organbuilder Robert L. Sipe and Aug. Laukhuff & Company of Weikersheim, Germany, one of Europe's oldest organbuilders. Mr. Sipe created the specification, scaling and layout of the instrument which was then built in Germany by the Laukhuff Company. Following four months of installation and voicing by Mr. Sipe, the organ was first used in worship on Sunday, November 13, 1983, and formally dedicated on Sunday, January 15, 1984.
Standing at the rear of the Chancel, the organ is ideally sited to speak freely along the main axis of the Sanctuary. Its 39 stops and 51 ranks are played from a detached, three-manual drawknob console located just behind the Chancel retable. The organ's key action is direct mechanical (tracker) action, which provides a sensitive, responsive and musical control over the organ's 2,621 pipes. The stop action is electric with a solid-state, multi-level combination action. The organ is tuned to equal temperament.
The symmetrical organ case is a modern adaptation of historical antecedents and serves to blend, focus and project the organ's tone. Its vertical axis, also based on historical models, clearly reflects the organ's tonal composition in its physical arrangement: the various divisions can be identified by the exposed pipework in the organ's façade. (In 1982, in anticipation of the organ's installation, architect Harold Wagoner suggested
"that you consider instructing your organ builder to paint all of the [façade] pipes a suitable shade of white."(!) The Great division speaks freely from the top center of the case and displays 29 polished tin pipes of its 8' Principal stop. The Positiv division, identified by its façade of polished tin 4′ Principal pipes, stands beneath the Great. The Swell division, the organ's romantic voice, is enclosed directly behind the Positiv. The Pedal division contains the instrument's largest pipes. It stands in two locations, framing the Great and Positiv, and features its flamed copper 16' Principal in the façade. The organ is fashioned from a variety of superior materials, including mahogany, oak, walnut, clear pine, cedar, tin, copper, lead and zinc. The keyboards utilize rosewood covered with bone for the sharps, and feature Madagascar granadilla for the naturals, a rare wood usually reserved for the finest clarinets and oboes.
Robert Sipe designed the organ in the American Classic style, one which combines tonal and physical elements from the past four centuries of organbuilding into a synergetic, modern instrument. Through his careful and inspired voicing, the organ speaks with a decidedly international accent. It functions with strong conviction and nobility of tone as a musical leader for congregational worship, and is an instrument which powerfully and effectively embraces a broad range of the organ repertoire. The organ's voice is wonderfully encouraged and enhanced by the Sanctuary's lively and gracious acoustic.
GREAT ORGAN

Manual II, unenclosed.  CC-a"'
9 stops, 14 ranks, 778 pipes
 pipes
 16
Bourdon
 58
 1-12 stopped mahogany
 13-58 lead, canistered with felted domed caps
 8
 Principal
 58
 polished tin; 1-19 in façade
 8
 Gedeckt
 58
 1-12 copper; 13-58 20% tin
 canistered with felted, domed caps throughout
 4
 Octave
 58
 spotted metal
 4
 Spillflöte
 58
 spotted metal; koppelflöte construction
 2
 Super Octave
 58
 spotted metal
 II
 Sesquialtera  12.17
 116
 spotted metal
 IV-V
 Mixture  1 1/3
 256
 70% tin

          19.22.26.29

       15.19.22.26

    12.15.19.22

  8.12.15.19.22

1.8.12.15.19

12

12

12

12

12

 8
 Trompete
 58
 1-54 spotted metal; 47-54 harmonic;
 55-58 spotted metal flues
 Tremulant (adjustable)
 Swell to Great
 Positiv to Great

 SWELL ORGAN

 Manual III, enclosed.  CC-a"'
 10 stops, 13 ranks, 749 pipes
 Mechanical swell pedal
 8
 Viole
 58
 1-12 zinc; 13-58 spotted metal; tapered, slotted
 8
 Viole Celeste
 53
 6-12 zinc; 13-58 spotted metal; tapered, slotted
 8
 Chimney Flute
 58
 1-12 stopped oak; 13-58 spotted metal
 canistered, felted with exterior chimneys
 4
 Principal
 58
 spotted metal
 4
 Flûte Harmonique
 58
 spotted metal; harmonic from C25
 2
 Blockflõte
 58
 spotted metal; wide scale, tapered
 IV
 Fourniture 2
 232
 70% tin

     15.19.22.26

  12.15.19.22

8.12.15.19

17

25

16

 16
 Basson
 58
 1-17 half length; spotted metal

 18-58 full length; spotted metal bells

  on zinc stems

 8
 Hautbois
 58
 1-55 spotted metal bells on zinc stems
 43-58 spotted metal flues
       4
 Clairon
 58
 1-42 spotted metal; 34-42 harmonic
 55-58 spotted metal flues
 Tremulant (adjustable)

POSITV ORGAN

 Manual I, unenclosed.  CC-a"'
 10 stops, 13 ranks, 730 pipes
 8
 Flûte Conique
 46
 1-12 common with Holzgedeckt;
 12-58 spotted metal, tapered
 8
 Holzgedeckt
 58

 1-12 stopped mahogany;

 13-58 stopped clear pine

 4
 Principal
 58
 polished tin; 1-43 in façade
 4
 Rohrflöte
 58
 spotted metal; 1-50 canistered, felted with
 exterior chimneys; 51-58 open, tapered
 2 2/3
 Nasard
 58
 20% tin; 1-18 canistered, felted with domed caps;
 19-58 open, wide scale, tapered
 2
 Octave
 58
 tin
 1 3/5
 Tierce
 58
 20% tin; wide scale, tapered
 1 1/3
 Larigot
 58
 20% tin
 III-IV
 Scharf 1
 220
 70% tin

              22.26.29

           19.22.26.29

        15.19.22.26

     12.15.19.22

   8.12.15.19

   8.12.15

12

12

12

6

4

12

 8
 Cromorne
 58
 spotted metal; 1-49 cylindrical resonators
 50-58 open flues
 Tremulant (Adjustable)
 Swell to Positiv

PEDAL ORGAN

 Unenclosed, CC-g'
 11 stops, 11 ranks, 352 pipes
32
 Violone
 —
 Walker electronic voice; 32 notes
 32
 Bourdon
 —
 Walker electronic voice; 32 notes
 16
 Principal
 32
 1-24 flamed copper; 25-32 spotted metal
 1-6 offset; 7-24 in façade
 16
 Subbass
 32
 stopped mahogany throughout
 8
 Octave
 32
 1-12 copper; 13-32 spotted metal
 8
 Spitzflöte
 32
 1-12 zinc; 13-32 spotted metal; tapered
 4
 Choralbass
 32
 spotted metal
 IV
 Mixture  2 2/3
 128
 70% tin
 12.15.19.22
 32
 Kontra Posaune
 —
 Walker electronic voice
 16
 Posaune
 32
 1-12 zinc; 13-32 spotted metal
 8
 Trompete
 32
 spotted metal
 Great to Pedal
 Swell to Pedal
 Positiv to Pedal
 Zimbelstern (8 bells)
 40 stops, 51 ranks, 2609 pipes
 Mechanical key action
 Mechanical couplers
 Windpressure 2 1/2 inches throughout

COMBINATIONS

 Peterson MSP System with 99 memory levels
 General 1-8 thumb, 9-16 toe
 Great 1-5 thumb
 Swell 1-6 thumb
 Positiv 1-5 thumb
 Pedal 1-4 toe
 Swell to Great reversible thumb
 Swell to Positiv reversible thumb
 Great to Pedal reversible thumb and toe
 Swell to Pedal reversible thumb and toe
 Untersatz 32 reversible toe
 Konta Posaune 32 reversible toe
 Zimbelstern reversible toe
 General Cancel thumb
 Combination memory up/down with setter lock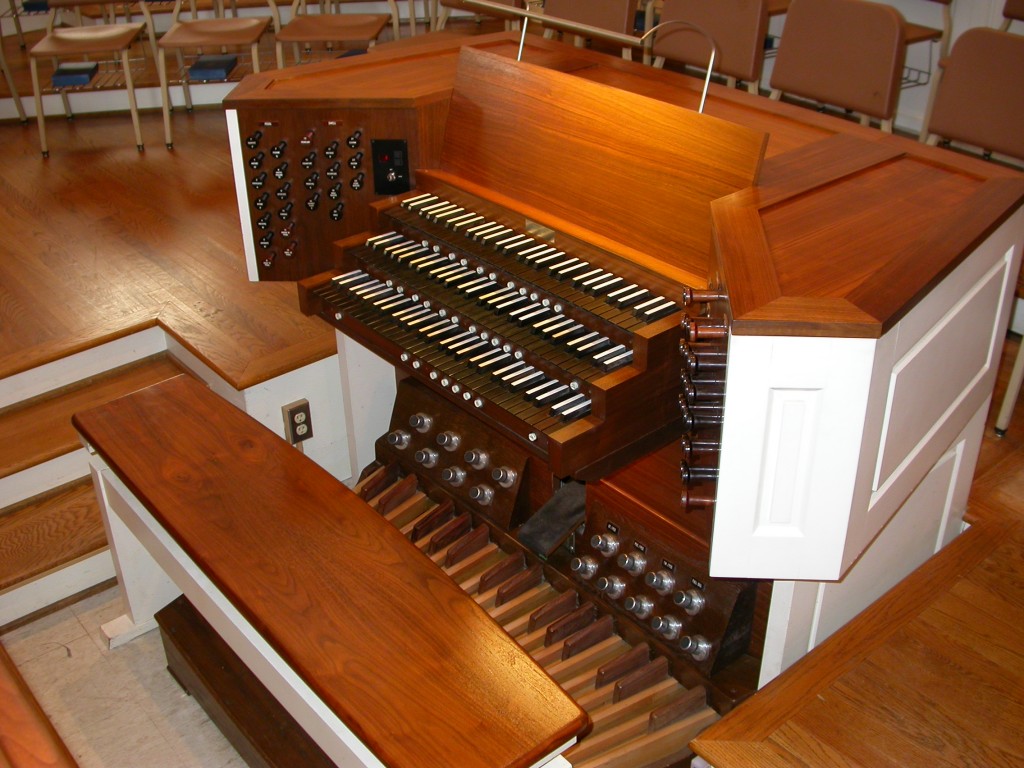 The organ console.
Photo taken by Joe Deese.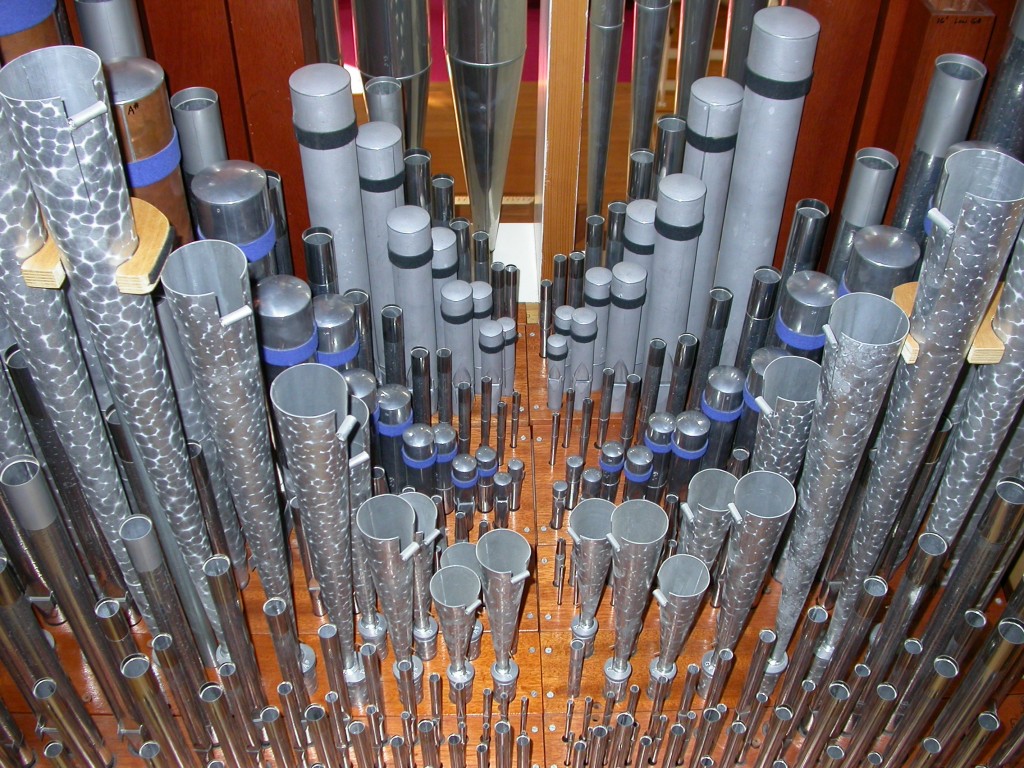 View of the Great windchest, showing pipes made variously of lead, tin, copper and spotted metal. This is the organ's primary division and stands at the top of the case immediately behind its facade of polished tin 8′ Principal pipes.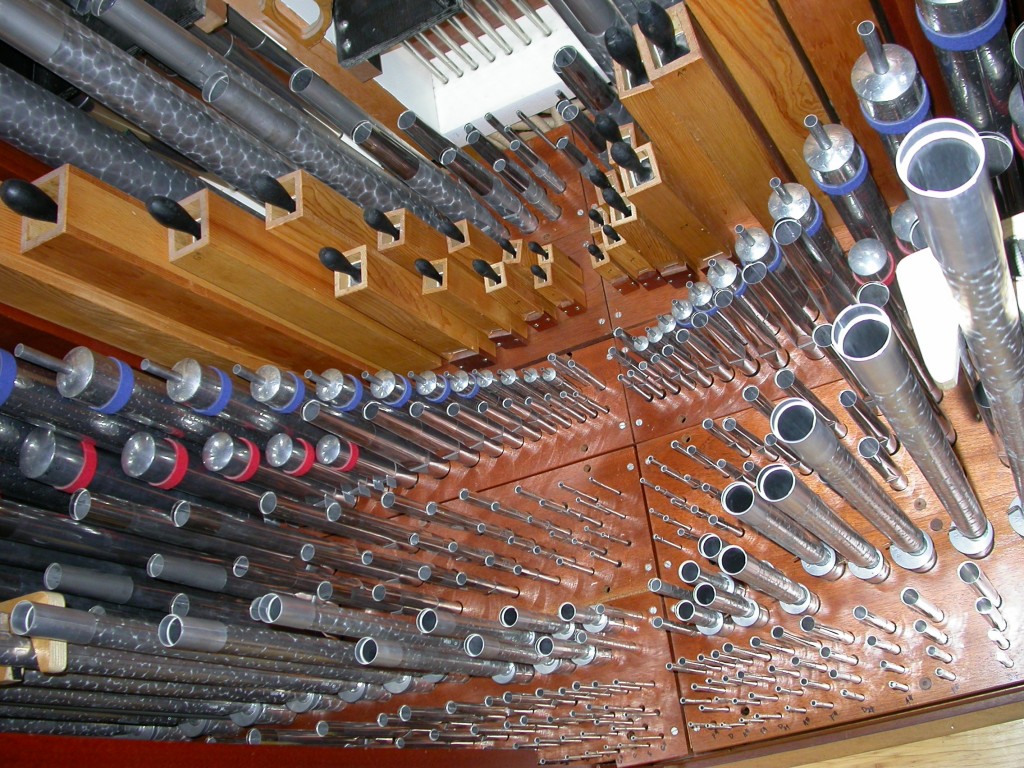 Pipes of the Positiv organ, which is located directly beneath the Great division.

A view of the Swell organ. The vertical black swell shades, edged in green felt, are seen at the top of the picture. They may be opened or closed by the organist to provide dynamic variation to this division. As the shades close, the sound is softened. This division is sited immediately behind the Positiv organ at the instrument's second level.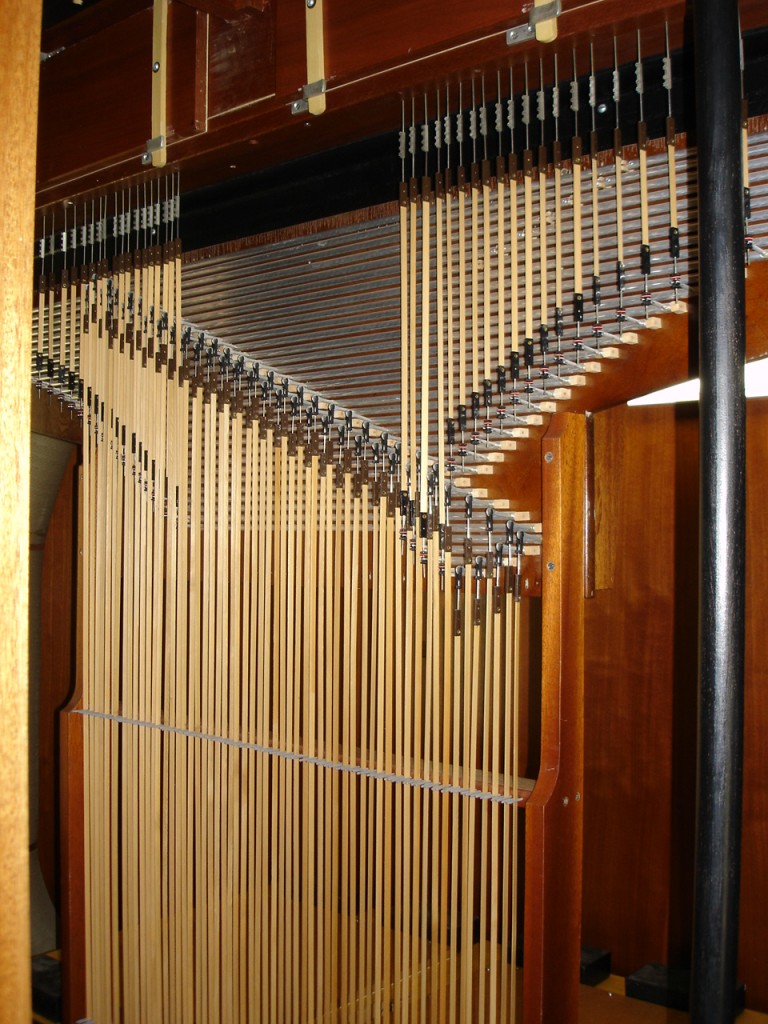 Two views of the mechanical room located under the Positiv and Swell divisions at the organ's first level. The cedar trackers seen in both pictures connect the organ's keyboards and pedals to the windchests and pipes. The instrument's main wind reservoir, which collects pressurized air from the organ's electric blower, may be seen in the background of the upper picture and the lower right corner of the lower photograph.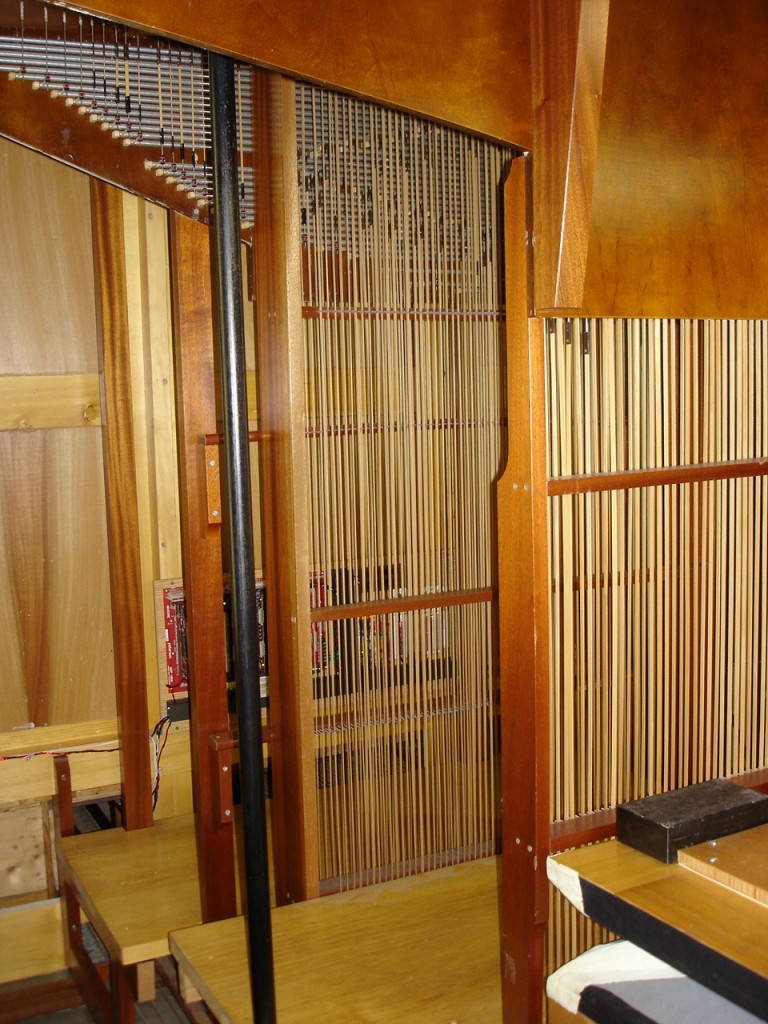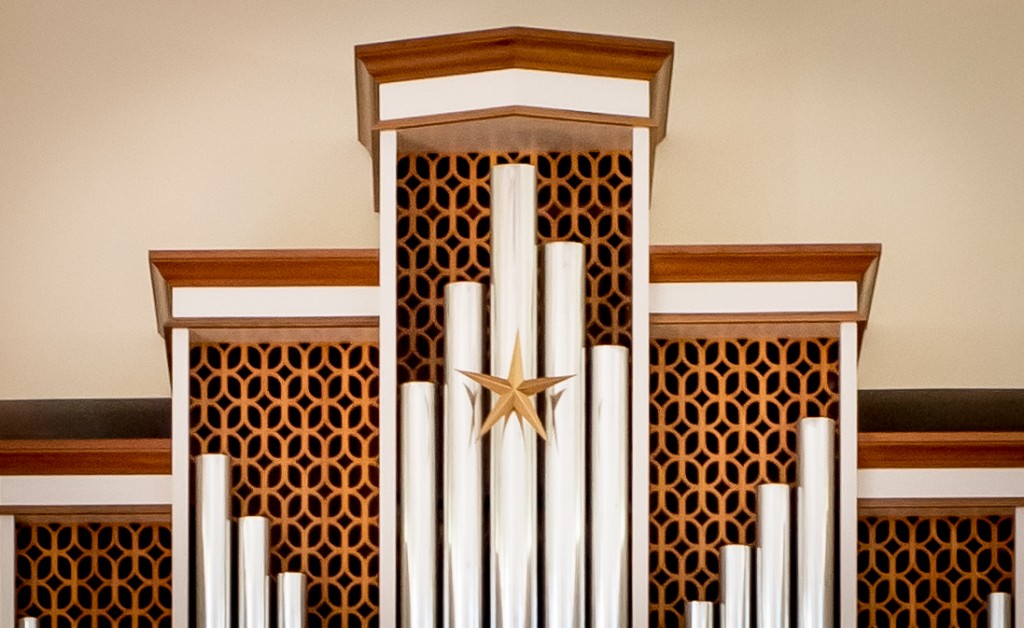 The Zimbelstern