Saturday, August 26, 2023
4:00 pm in the UPC Sanctuary
Solomon Eichner, concert pianist
Prizewinner of the Liszt-Garrison International Competition and the Washington International Young Artists Competition, acclaimed concert artist Solomon Eichner will present a solo recital celebrating the 150th birthday of Sergei Rachmaninoff. Free and open to the public.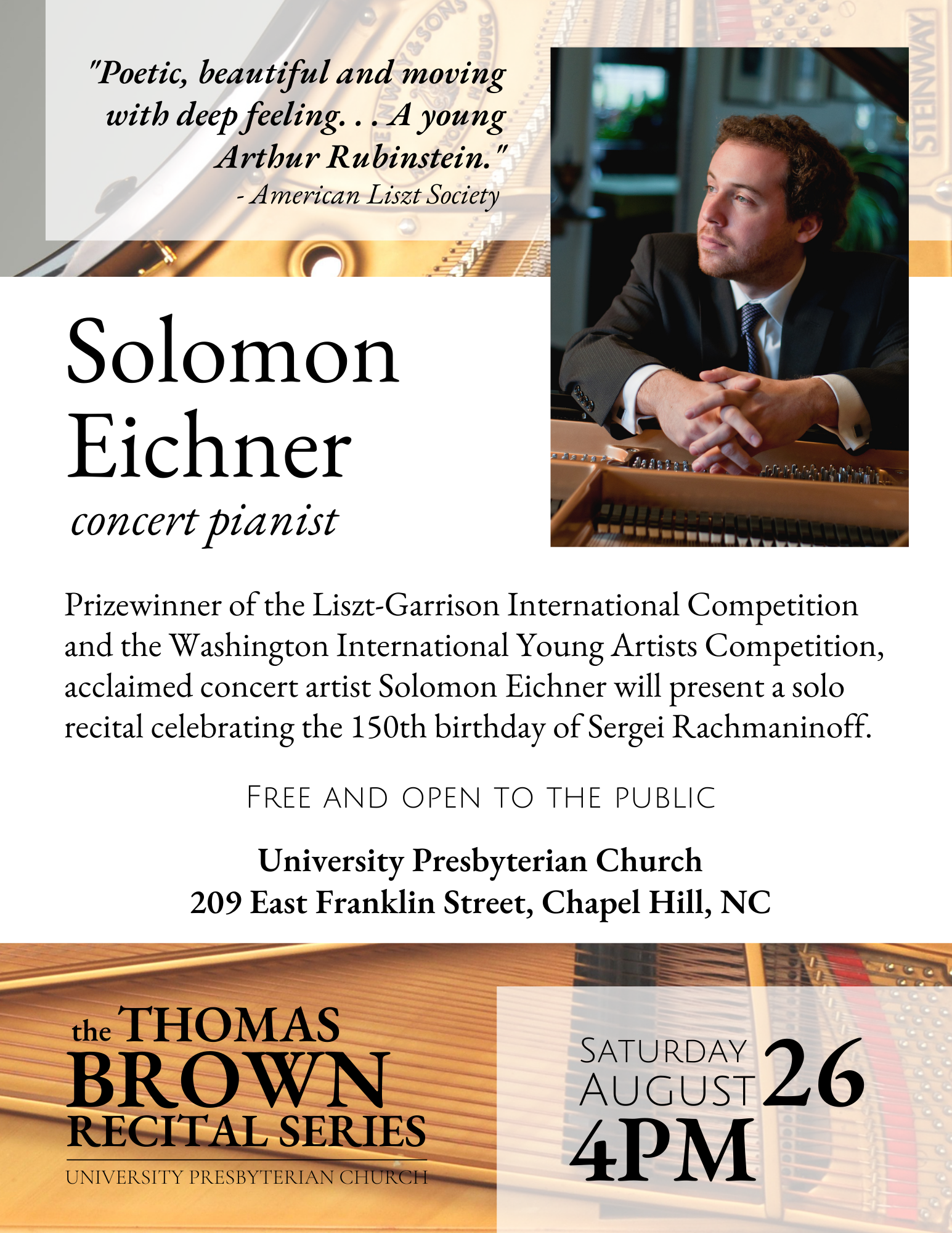 Saturday, May 6, 2023
Kirsten Homdrom
, piano
Ms. Homdrom presented a program entitled "There is Peace Even in the Storm," featuring works by Samuel Coleridge-Taylor, Germaine Tailleferre, Takashi Yoshimatsu and W. A. Mozart.
Saturday, September 17, 2022
Liam Drake
and friends
Excerpts from the premier concert in this series, featuring pianist Liam Drake and other young artists including Jaeyee Jung (violin) and Catherine Yates (cello).
About the Recital Series
In the summer of 2022, a group of families at University Presbyterian Church made an extraordinary gift to our church possible. The Steinway Model B piano which graces our chancel is a magnificent instrument dedicated to the glory of God through worship leadership and musical outreach.
This acquisition was also a long-time dream come true of former Music Minister Thomas Brown who, over the course of his ministry at UPC, brought an unparalleled level of musicianship to our church. Tom's own life was a unique combination of faithful church service and a career as a nationally acclaimed concert artist. Having started the tradition of great piano music at University Church with his annual recitals in the sanctuary, it seemed fitting that we honor Tom's legacy with a named concert series, "The Thomas Brown Recital Series," which will feature our instrument and inspiring artists both local and from afar.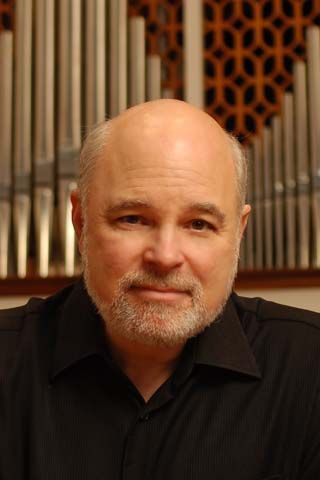 About Thomas Brown
Thomas Brown is an award-winning pianist, organist, composer and improviser. He is one of the rare musicians who enjoys an active and varied career as soloist, chamber musician and collaborative artist as both pianist and organist, occasionally as harpsichordist, and as church musician.
Thomas is a graduate of the University of Missouri-Kansas City Conservatory of Music and is a recipient of the University's Alumni Achievement Award. He also holds the Master of Music degree from The Juilliard School in New York City and, while a student there, was named an Outstanding Young Artist of America by the Editors of Musical America magazine. His performances have been heard on NPR and the CBC, and he has recorded for The Repertoire Recording Society, RBW Records, Viennola Gramophone Austria and Raven Recordings.
Thomas has appeared on many of the important recital venues and at conventions of the American Guild of Organists and The Organ Historical Society. During his third tour to Southeast Asia, he was the featured soloist at the International Bamboo Organ Festival in The Philippines and was the first American ever invited to record on the famous Bamboo Organ there. He is an award-winning improviser and composer; his hymn-tune Spes won first prize in an international hymn-tune competition and was coupled with a new text by Brian Wren. His articles have appeared in The American Organist, The Diapason, The Herald and The Northeast Organist magazines. His keen interest in organ design has taken him to Germany, Holland, France, Switzerland, Austria and England on numerous occasions where he has inspected and performed on many important and historic instruments.
For over fifty years, Thomas has been associated with church music and has served congregations in the Southern Baptist, Methodist, United Church of Christ, Episcopal, Disciples of Christ, Community of Christ and Presbyterian faith traditions. For nearly two years he was the organist for New York City's First Church of Religious Science which met in Alice Tully Hall; he coordinated a music program which juxtaposed classical music and professional soloists with well-known jazz musicians, popular vocalists and liturgical dance. He remains the youngest-ever-appointed staff organist of the Reorganized Church of Jesus Christ of Latter Day Saints (now Community of Christ) in Independence, Missouri, where he began his duties as weekday recitalist on the Auditorium Organ at fifteen.
Thomas served for eighteen years as the Minister of Music at University Presbyterian Church in Chapel Hill, North Carolina, retiring in May 2020. "The Thomas Brown Recital Series" was founded in September 2022 in his honor.