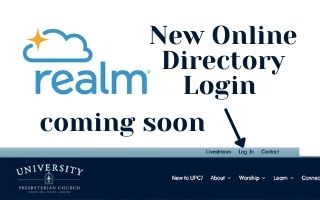 Watch your inbox this August …invitations coming soon!
In the meantime, you may receive a few emails concerning an update in your privacy settings or being opted-in to our UPC directory. Please be assured that only your name, address, phone, and email will be visible to other UPC members and staff. You will also have the opportunity to change your privacy settings once you've created an account.
UPC has made the switch to Realm and the staff is working hard to get it ready for our members. This database change primarily serves the administrative needs of our staff, but it also offers some exciting opportunities to support the way you are involved in UPC and allow for greater connections and communication among church members.
What remains the same (but with an updated look)?
Giving, setting up recurring gifts, and making a pledge online as well as viewing your pledge, giving record, and printing your statement.
Updating your address, email, phone number and other profile fields (i.e. allergies, etc.)
Registering for events/trips.
What is new to UPC?
Groups!
Serving Opportunities. We are working on setting this up for future use.
The Realm Connect App…this will replace the old ChurchLife app.
Even if you had an Access ACS login account before, you will still need to establish a new account in Realm and that is by invitation only.
Thank you for your patience as we make this change.
Please contact upcch@upcch.org if you have any questions.