The Global Outreach Subcommittee of UPC's Outreach Committee coordinates the Mission and Outreach work we do with partners around the world and further works to educate the congregation about the lives of people in other nations.
We meet on the first Monday of each month to plan on-going and new efforts. If you have a heart for international outreach, are excited about making outreach a part of the active life of this congregation and in learning more about our brothers and sisters around the world, we would welcome your presence and thoughts at our meetings.
We are proud that University Presbyterian Church so generously gives its collective prayers and its financial support for and to three missionaries from the Presbyterian Mission Agency – Karla Koll located in Costa Rica and working with the Universidad Biblica Latinoamericano, Jo Ella Holman in the Caribbean, and a missionary couple working in the Middle East. For more information on the breadth of the work of the Presbyterian Mission Agency, see: www.presbyterianmission.org
Current News
Global Outreach meets virtually at 6pm on the first Monday of each month.
January 2021 Update:
In spite of everything, including a first time effort at a completely virtual Christmas 2020 Alternative Gift Market, the generosity of UPC was beautiful to behold. Undaunted, this congregation dug deep and supported our favorite programs. Our friends and co-workers in Haiti, Zambia, Syria, and elsewhere, including our local Department of Social Services, now have more resources and much encouragement as they continue their work for those in need. All told, the Global Outreach Committee was able to distribute more than $20,000.
Latin Patriarchate School
Our Partnership
With the Latin Patriarchate School in Palestine
The Middle East was home to the Jewish people, to Jesus and to the early Church, and remains a home for many Christians, Moslems and Jews.  This is a troubled time for the region, and children are especially vulnerable.  In an effort to help some of the children caught in the conflict, our Church School has established a partnership with Father Firas of the Melekite Catholic Church  and with the Latin Patriarchate School in Zababdeh on the West Bank.   We are pleased to work with Father Firas in the education of the children there – he refers to his work as "building peace on the desktops of children."
Haiti
Our Partnership With Haiti: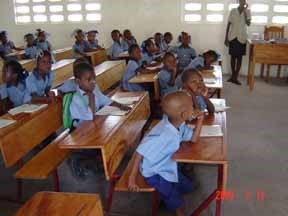 Haiti is one of our closest neighbors, yet remains the poorest country in the Western Hemisphere. We are called to partnership with our brothers and sisters there, helping them develop the means to better their own lives, and we also have much to learn from them. University Presbyterian Church has been working for a number of years with several organizations in Haiti to do so, and has also sent mission teams to Haiti almost every year since 2002. They have returned witnessing to the depth of faith, joy of Gospel, and true sharing of our brothers and sisters in that neighboring country.
Among our closest partners in Haiti are the St. Joseph's Family Homes   www.heartswithhaiti.org] – St. Joseph's is in the Petionville section of Port au Prince.  Wings of Hope is a home for disabled children, and has just completed the building of  a new facility in Jacmel on the southern coast of Haiti.
A second close partner is Family Health Ministries (FHM).  http://www.familyhm.org   – This Durham based group was founded by David and Kathy Walmer.  Working with Haitian partners, they support programs in maternal and child health, nutrition, education and church development in Haiti.  They have built and help staff clinics in Blanchard and Leogane, and support child nutrition and education efforts in the mountain community of Fondwa.  Family Health Ministries has just completed the Carmelle Voltaire Women's Health Center and Clinic in Tombe Gato.
FHM also works in concert with our third close partners, Pastor Leon Dorleans and his wife, the educator Jackie Dorleans .  www.haitioutreachministries.org.
Leon has visited UPC and spoke from our pulpit. He and his partners work in the some of the poorest communities in Haiti, Cite Soleil, Blanchard and Repatriote, as well as in the village of Ibo beach.  In each community, they have built a church, schools, and a small clinic, the later in partnership with Family Health Ministries.
For more information about UPC's work in Haiti, contact Kay or Sam Leaman  or Carolyn Karpinos
Alternative Market
Taking action for the Kingdom
"In the fifteenth year of the reign of Tibe′ri-us Caesar… the word of God came to John the son of Zechari′ah in the wilderness; and he went into all the region about the Jordan, preaching a baptism of repentance for the forgiveness of sins….. And the multitudes asked him, "What then shall we do?" And he answered them, "He who has two coats, let him share with him who has none; and he who has food, let him do likewise." Luke 3:1-3, 10-11.
We enter Advent with these words of John the Baptist in our ears, reminding us of the coming of the Lord.  While we await the coming of new Jerusalem, we think of Luke who throughout his Gospel reminds us Jesus told us to work for the Kingdom now, in this time and this place.  Our task—to share our resources with those who have none, and to show we are Christians by our actions, not just our words.  Those of us in Local and Global Outreach have the privilege to use your resources to help those in need.  We have identified  partners around the world who are ready to work for the Kingdom but often lack the resources to make their dreams into reality.  Each year UPC and the Global Outreach Committee host the Alternative Gift Market during Advent, offering each of us a chance to honor friends and family at Christmas with gifts that help people in need in the US and around the world.
UPC List of Programs:
Family Health Ministries  Blanchard Clinic  Haiti
Wings of Hope   Haiti
Ministry of Hope Crisis Nursery   Lesotho
Orange County DSS  Friends of DSS  USA
Witnessing Ministries of Christ (Untouchables)  India
Christian Communications Institute (Christian evangelism)   Thailand
Refugee Assistance   Syria and Lebanon
Latin Patriarchate School  Palestine
Kachale Village (Leper families)   Zambia
We also a range sponsor projects from Alternative Gifts International.
Africa
Our Partners in Africa
Ministry of Hope – Lesotho, Africa.  Originally started as a project by Presbyterian missionary, Nancy Dimmock in conjunction with the work of Mamonyane Mohale, the Ministry of Hope – Lesotho has emerged as a program designed to provide quality infant and child care for working and nursing mothers in Lesotho.  The program directors there work to meet the basic needs of abandoned and vulnerable infants and young children. To that end, they help displaced children find their families and also attempt to find families for orphaned, lost or estranged children.  At any one time, there are 25 children as residents at and under the full care of the Ministry of Hope-Lesotho.  Funding for this project was originally and ably managed through Ministry of Hope, Inc. located in Black Mountain, North Carolina.  With Nancy's relocation to the United States and with the blessing of the Black Mountain Board, Government Street Presbyterian Church in Mobile, Alabama is now leading an effort to create a separate non-profit for the sole support of Ministry of Hope Lesotho.  UPC is one of the churches that is helping in this effort and Global Outreach continues to support the Ministry of Hope-Lesotho annually.   For more information about the work in Lesotho, Africa.  http://gspc.publishpath.com/Website
School and Leper Colony – Kachale, Zambia.   Kathy Harding, an amazing woman and friend of a UPC member, has founded a sanctuary colony for the care of lepers and a school for their children and for the children of the community of Kachale, Zambia.  Harding's long-time work there has been recognized by non-profits in Great Britian and in Europe, and Global Outreach is proud to be a partner of this community.  Our contributions to this ground have been small in the past but have grown in the past two  years, and the prayers of our community of faith for this work are bountiful.