Campaign Update (as of 2/28/17)
$1,744,299 Dollars Pledged
433 Pledges Made
162 Pledges increased from 2016
A Season for Stewardship
Each year we enter a time of discernment and faithful prayer about what it means to be stewards of God's gifts. The Stewardship Committee has worked diligently to provide meaningful ways to engage with the process, including gatherings, announcements, brochures, videos, and even this site. As we walk together through this season, may we all be attentive to God's call.
"Do you Dare?"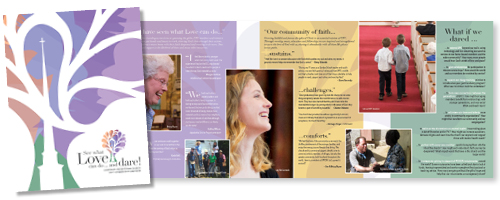 This brochure was developed with that one central question, and displays the many different answers that abound in our church family. Click on the image to launch a full page version of this brochure. 
Stewardship Moments
October 2, 2016- 8:30 Worship | October 2, 2016- 11:00 Worship | October 9, 2016 | October 23, 2016
Bob Dunham begins the 2017 UPC stewardship campaign series of short videos of UPC staff and members reflecting on God's presence and call.
Karen Vandersea describes the excitement of seeing God at work in UPC's Sunday School classes.
CC Owen describes her increasing involvement at UPC in response to God's call to help others and shares a delightful story of influencing the lives of younger church members.
Jay Klompmaker knows God is at work when he sees young families and youth so actively involved at UPC.
Beth Visser shares her hope that choir provides a foundation for UPC's youth in their faith journeys.
UPC chancel choir member Hank Waters describes the pleasure of watching music come to life for the congregation.
Ashley Wilson shares her hope that UPC will continue to increase awareness, provide resources and decrease stigma about mental health issues.
Kim McNeill describes how the annual DC service trip changes UPC's middle schoolers forever by helping them find a new heart for service.
Scott Singleton suggests that Christ's presence and strength enables UPC members to do even more to help overcome some of the issues of justice our community faces today.
Sharon Edmiston describes her approach as a confirmation class teacher to helping UPC's youth explore and live their faith.
Jim Baxley recognizes that UPC members are bound together by God's love, which provides the strength to dare and to do great things.
Tom Brown explains how our sanctuary was designed "on a dare" after UPC burned in 1957.
Ellen Parker suggests thinking even more deeply about the stewardship of our time and money.
Katie Billings recalls the DC service trip as time God called UPC middle schoolers to break out of their comfort zones and help others.
Kim McNeill explains why gathering 75 teenagers every Sunday evening for Presbyterian Youth Connection is "daring."
John Rogers describes how UPC helps impact and shape the lives of UNC students participating in Presbyterian Campus Ministry
Matt Singleton recounts how another UPC youth helped him gain the confidence to sing a solo in front of the church.
Nancy Myer wonders what would happen if we invited food trucks and our neighbors to join us for outdoor fellowship in the UPC parking lot.
Day McLaughlin describes reaching out to people of other faiths during UPC's visit to the Institute of Islamic and Turkish Studies in Cary.
Kate Fiedler discusses the importance of operating from a place of abundance, hope and love so that UPC's stewardship can continue to overflow beyond our church community.
DG Martin suggests considering how much of what we give to UPC is for our own benefit, and how much beyond that we might give for others through the Outreach mission of the church.
Sharon Edmiston considers Appalachia Service Project (ASP) a wonderful example of community in Christ. It's daring, too!
Scott Singleton explains how Paul reminds us that we at UPC are in a position to share even more of ourselves.
Sam Leaman shares his excitement about UPC's critical support for our missionaries who have dared to make a commitment with their lives and do remarkable work in the Middle East, Latin America and the Caribbean
Beth Visser contemplates the theme of this year's Stewardship Campaign – "See what Love can do…and dare!" – and wonders what could happen at UPC if we each responded to that challenge.
Thad Monroe recalls how UPC's support for Presbyterian Campus Ministry (PCM) when funding was short enabled the program to thrive and to help so many UNC students.
Karen Vandersea describes how love for our families, our church, our community and the world can dare us in all aspects of our faith.
Bob Dunham reminds us that our stewardship is strengthened when we imagine together what is possible.
Stewardship Committee
Daphne and Crowell Little, Karen and Brian Vandersea – 2017 Campaign Chairs
Perry Aycock, Kirsten Barker, Jim Baxley, Don Hunter, Jay Klompmaker, Nancy Oates, Susan Ross, Scott Singleton, Hank Waters, Ashley and John Wilson
Click here
to access our archive of previous stewardship campaigns.