Our Current Regathering Plans
In light of the Delta Variant and how the pandemic trends continue to shift, we are adjusting some of our previously published regathering plans at UPC.
(Note: these adjusted plans are still subject to change as we continue to pay close attention to the pandemic.)
9:45 am – Sunday School for children, youth, and adults
11:00 am – Worship in the Sanctuary, with livestream at upcch.org/live
4:00 pm – Children's Choir & Junior Choir (indoors, masks required)
5:00 pm – Youth Choir (indoors, masks required)
6:00 pm – Youth Group (eating outdoors; program indoors, masks required)
Masks are required indoors on the UPC campus.
There are designated sections in the sanctuary for those who prefer to maintain physical distancing.
We will be singing, and have reserved the balcony for those who would rather not sing.
The nursery is open (with vaccinated nursery workers), and children are also welcome to stay in worship.
In lieu of passing the offering plates, offering boxes are available at the front of the sanctuary and in the narthex.
We are passing the peace in worship; if you prefer no contact, place your hands together in front of you. (With the rise of the Delta Variant, we are currently asking everyone to greet each other this way.)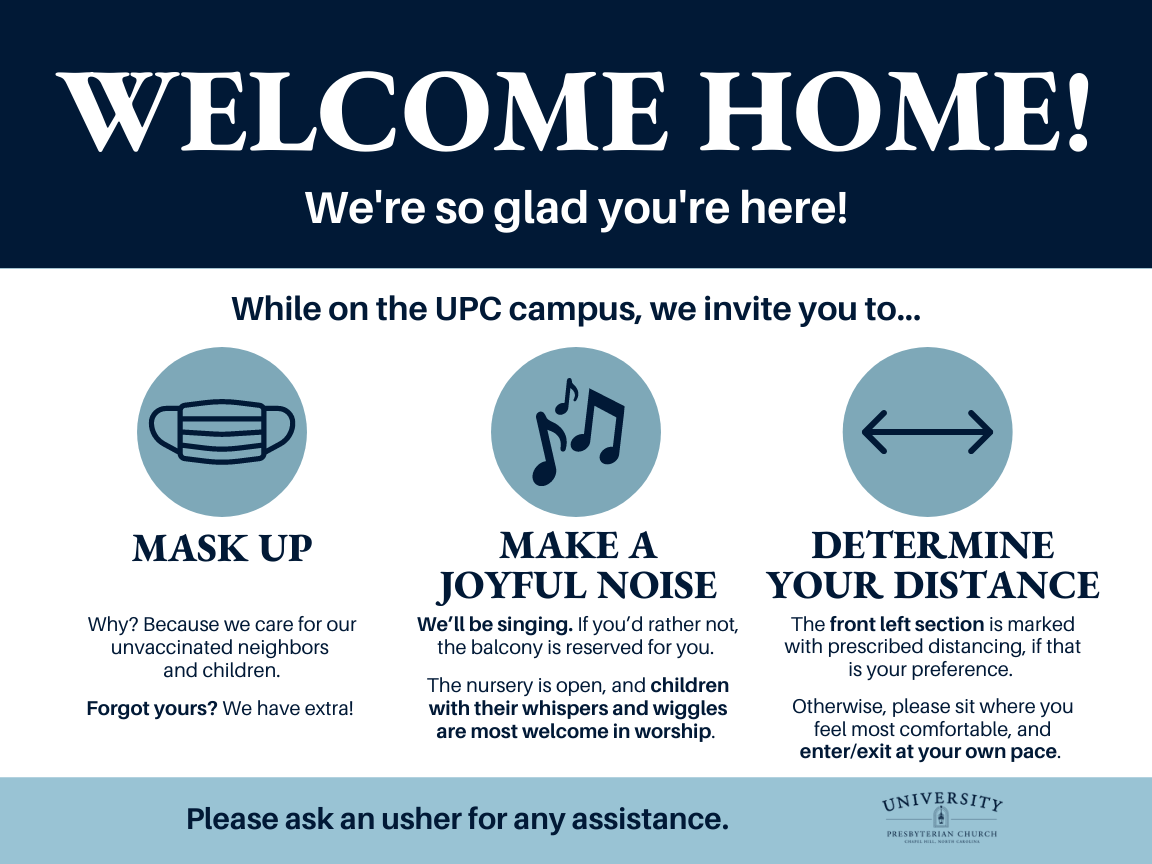 Here's a video from the TIP Team to help you know what to expect when you attend in person worship!
Many thanks to the following individuals who are diligently working and planning with our staff for a safe return to in-person gatherings:
Sarah Bozymski, Anne Bryan, Greg Crawford, Jeff Howard, David Lane, Amy McEntee, Taylor Morris, Mary Ellen Olson, Than Powell