Current COVID Precautions At a Glance
Update as of July 13, 2022: UPC Moving to Masks Strongly Recommended
With the high transmissibility of the current COVID variant and Orange County's high level of community spread (as determined by the CDC), we are now STRONGLY RECOMMENDING masks on the UPC campus. Please note that the balcony and the nursery remain masks-required areas. Thank you for considering the health and safety of our congregation and our community.
Current masking policy:
Masks strongly recommended in worship (

the balcony will remain a masks required zone

)
Masks required in the nursery/preschool classes (for ages 2+)
Masks strongly recommended in other places in the church (office, Sunday School classes, meetings, etc.)
All plans are subject to change based upon how the data about COVID changes. We will communicate any changes via email, social media, and our website. We thank you for your understanding!
10:00 am – Worship in the Sanctuary, with livestream at upcch.org/live
11:00 am – Punch on the Porch (fellowship and light refreshments on the front lawn)
Masks are recommended for worship; the balcony remains a masks-required zone.
We will be singing. Hymn sheets are available for those who prefer not to use hymnals.
The nursery is open (with vaccinated nursery workers), and children are also welcome to stay in worship.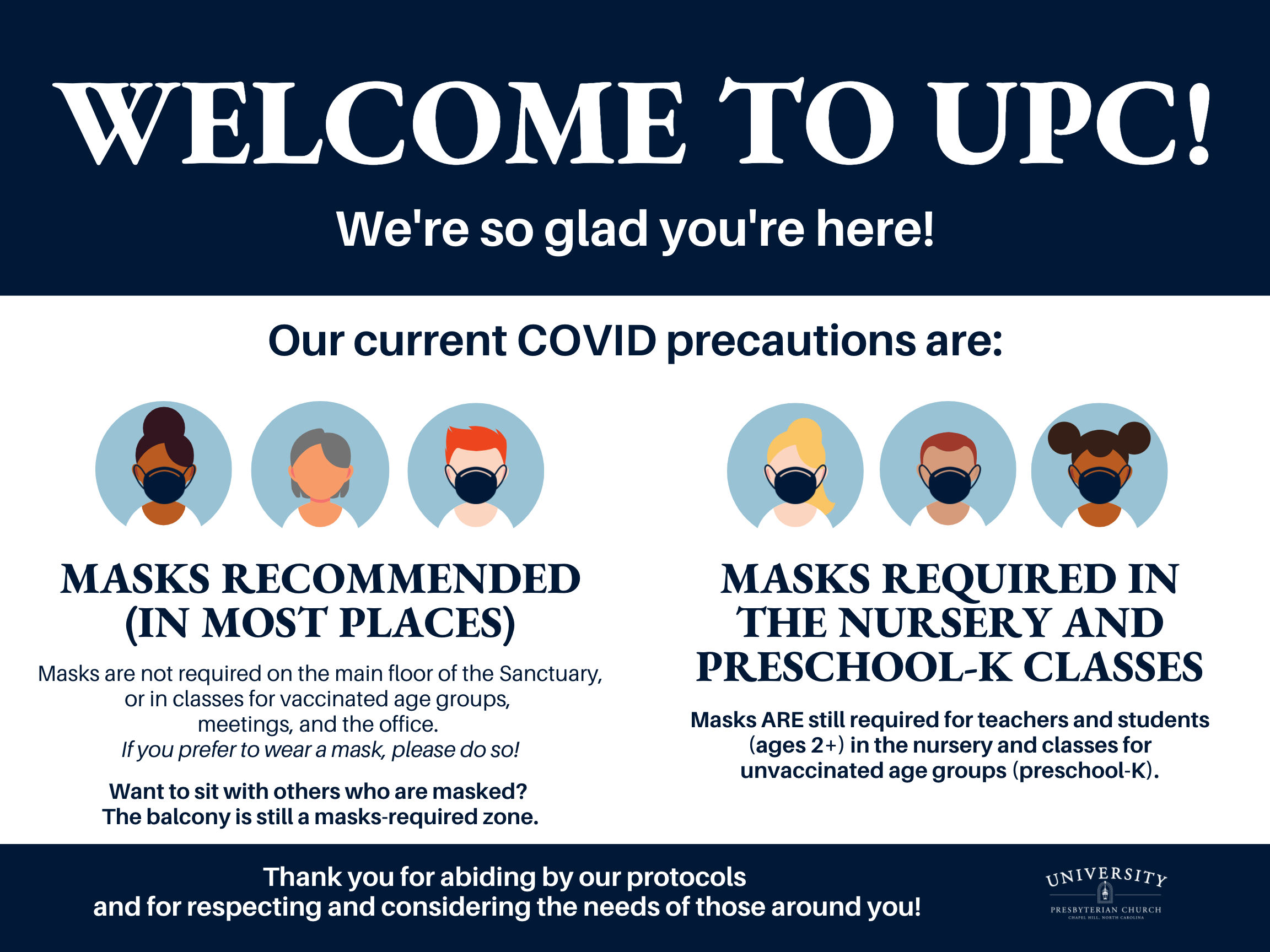 Many thanks to the following individuals who are diligently working and planning with our staff for a safe return to in-person gatherings:
Sarah Bozymski, Anne Bryan, Greg Crawford, Jeff Howard, David Lane, Amy McEntee, Taylor Morris, Mary Ellen Olson, Than Powell