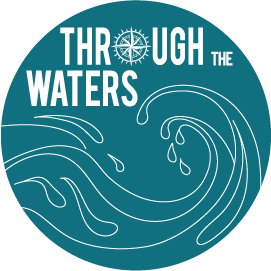 September 6-8, 2019
Are you ready to rest, relax, and retreat from your
everyday patterns and routines?
Are you ready to discover the ways the Holy Spirit is moving in your life?
Join your church family in beautiful Montreat as we experience scripture, keynotes, workshops, pottery, hiking, and much more!
Don't miss this opportunity to live in community with your church family as we explore the theme: Though the Waters!
 Registration opens March 3rd!
2019 Theme Grid
| | | | |
| --- | --- | --- | --- |
| Through the Waters | Friday Night | Saturday | Sunday Morning |
| Theological Focus | Named | Claimed | Beloved |
| Scripture | | Isaiah 43: 1-7 | |
| Centering Prayer | God, we are grateful to be gathered together with our church family in this thin place. | God, we are amazed and astonished  by how you continue to work in our midst. | God, send us into the world, led by your Spirit, to welcome, encourage, and spread your good news. |
Friday night – Named
We'll register at Assembly Inn in Montreat and spend time enjoying all that Montreat has to offer through scavenger hunts, games, and recreation. Later in the evening, we'll introduce leadership and spend time learning to call one another by name. Then, our night owls will enjoy "Late Night in the Lobby" for games, guitars, and good times.
Saturday  – Claimed
After breakfast, we'll gather in Convocation Hall for our first keynote. We will then have extending time with our chatter groups to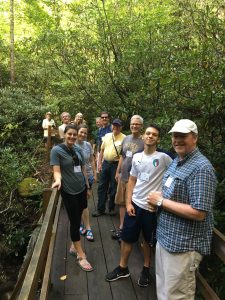 get to know one another better and talk about what we heard in Keynote. We'll move into our workshop session where folks will have the chance to experience the theme in a variety of ways: pottery, bible study, crafts, and more!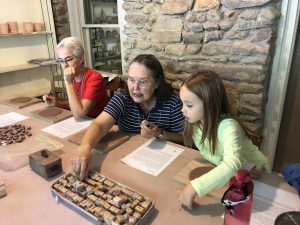 After lunch, we will experience Keynote in a move active way, followed by time with our chatter groups to talk about what we heard. All will enjoy free time in the afternoon. Participants will have the chance to hike, rock hop, go into Black Mountain for shopping, take a swing at the Black Mountain Golf course or enjoy an afternoon of rest.
Saturday evening, we'll gather around the pig cooker for a UPC BBQ and move into an evening of recreation with a staple of good times at  Montreat: a barn dance followed by a camp fire and smore's.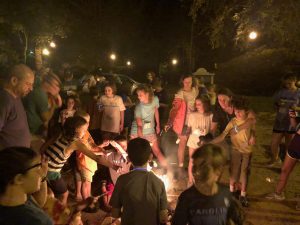 Sunday morning – Beloved
As we prepare to head down the mountain and back into the real world, we'll prepare our hearts and minds for service to others through a hymn sing and worship.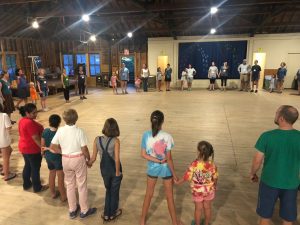 Meet our Keynoters: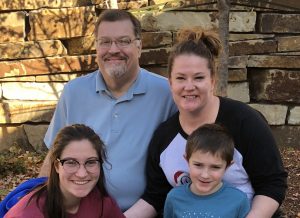 Hello UPC and greetings from the McKinnons. We are so excited to be Keynote speakers for your congregational retreat! In a lot of ways, it feels like a homecoming for us. Montreat is a home away from home for our family and UPC was John's literal home when he was your church mouse. He has many fond memories of campers and parents from the church.
John and Darci met while directing Presbyterian camp and retreat centers in North Carolina and Ohio. They were married less than a year later and are closing in on their 20thanniversary in October.
John is a graduate of Union Presbyterian Seminary in Richmond, VA. He is currently serving as the Pastor of First Presbyterian Church in Oklahoma City. Prior to moving to Oklahoma, John served as Associate Pastor of First Presbyterian, New Bern and Pastor of Beckley Presbyterian, Beckley WV. Prior to seminary, he directed Camp Albemarle for five years. John was also a Probation and Parole Officer in Chapel Hill and was the Church Mouse at UPC temporarily renamed Church Bear during his tenure.
Darci loves working with all ages and has worn many different hats in service to the church. She was the Director of Wildwood Camp and Conference Center for the Presbytery of Cincinnati, has worked in children's and youth ministry for First Presbyterian in Morehead City, the Presbytery of the James, First Presbyterian in New Bern, and Westminster Presbyterian in Oklahoma City. She has enjoyed serving on planning teams and leadership for National PW Gatherings, Montreat Middle School and Youth Conferences and the Arts, Recreation, and Worship Conference.
We look forward to exploring Isaiah's word for us today as we travel Through the Waters together. Darci also looks forward to rocking chairs and knitting needles. Aidan (16-year-old daughter) and Ian (6-year-old son) look forward to rock hopping and hikes up Lookout. John can't wait to just being back in one of his top three thin places on earth where God is so very present.
Thank you for the opportunity to retreat with you! It is going to be an amazing weekend.
To paraphrase the good prophet, Do not fear, for God has redeemed you; God has called you by name, you are God's. YOU ARE GOD'S. What amazing love is this? What a joy it will be to explore that love together. Thanks be to God! See you in September!
Where we're staying:
We will stay in hotel rooms in Assembly Inn, where we'll also have meals and group meeting space. You have a choice of private or adjoining baths. Space is limited so register early!
Retreat Fees:
Conference Fees (per person):
Conference fees include meals – Saturday breakfast through Sunday breakfast.
Adults: $75
Children (5-11): $55
Children (4 & under): $40
Lodging (for two nights):
Assembly Inn – Two rooms, connecting bath: $352
Assembly Inn – One room, private bath (various bed sizes available): $200
Assembly Inn – Second adult staying in room: Free
Assembly Inn – Child(ren) staying in room with parent(s): Free
Youth staying in youth housing: $120
Agenda
Friday Night
6:30pm: Registration
6:30-7:30pm: Fun and games in the Lobby
7:30-8:30pm: Community Building
8:30-9:30pm: Gathering
9:30-10:30pm: Late night in the Lobby
Saturday
(Childcare provided 8:30-12:15, 1:00-3:15)
7:30 – 8:30am:  Breakfast
8:45 -10:00am: Keynote
10:00 -10:45am: Chatter Groups
10:45am – 12:00pm: Workshops
12:00 – 1:00pm: Lunch
1:15 – 2:15pm: Keynote
2:15 – 3:00: Chatter Groups
3:00 – 6:00pm: Free time
6:00 – 7:00pm: Dinner
7:30 – 8:30pm: Barn Dance (no evening childcare)
8:30 – 9:30pm: Campfire
Sunday Morning
(Childcare provided 9:15-11:45)
7:30-8:30am: Breakfast
9:15am: Group Picture – Assembly Inn front steps
9:30-10:15am – Chatter Groups
10:20-10:40am – Morning Singing
10:40-11:30am – Worship
Workshops – more coming soon – stay tuned!
We will have one workshop on Saturday morning. Many activities will be available for Saturday afternoon free time as well.
Infants – Pre-Kindergarten – This age group will spend time together playing and enjoying the company of other UPC children. Parents of 4 year olds can register for this group or can choose workshop below that is open to 4 year olds that might fit their child's developmental stage. Facilitated by Montreat Staff
Hiking #1 – Take a fun walk on the Gate Trail. Want to get out and stretch your legs, but don't feel up to hiking to the top of Lookout Mountain? Join us for a leisurely stroll along the creek.  Wear shoes that can get wet if you'd like to try rock hopping. There will be an opportunity to hike Lookout Mountain during our free time on Saturday afternoon if that's more your speed. (Open to All Ages). Meet up in Assembly Inn Lower Lobby by the front Desk.
Hiking #2 –  The Sanctuary Trail offers another opportunity to enjoy our scenic outdoor surroundings. This trail is a little longer than the Gate Trail and leaves from the Walk Jones Wildlife Sanctuary area. There will be an opportunity to hike Lookout Mountain during our free time on Saturday afternoon if that's more your speed. (Open to all ages.) Meet in Assembly Inn Upper Lobby by Piano.  
Pottery – Whether you are a beginner or have frequently worked with clay, Ann Jones is a skilled teacher who can help you create a wonderful keepsake of the weekend. See what the spirit moves you to make! (Workshop open to Kindergarten and up, but during free time pottery is open to all ages). Currie Craft Center, Upper level. Facilitated by Ann Laird Jones.
more coming soon – stay tuned!
Saturday Afternoon Free Time Ideas – No sign up required
Hiking Lookout– Hike up Montreat's famous Lookout Mountain. It's a moderate hike, about 45 minutes up and 30 minutes down with great views of the valley.   The first part of the trail is a gentle uphill slope through an area rich with wildflowers.  We will stop frequently to examine the flowers, ferns, shrubs and trees which cover the slopes of Lookout Mountain.  For those who wish to continue to the top, be prepared for challenging steep slopes and some scrambling up boulders for the 700 ft. elevation gain. You'll be rewarded with a stunning view.  Bring water and be prepared for the weather.  We will carpool from the entrance of Assembly Inn to the trailhead on Lookout Road. Meet in Assembly Inn Lower Lobby, near front desk.
(Many additional trails are available. Find a trail map at checkin!)
Pottery – Work with a local potter to create your own Montreat keepsake out of clay. Open to all ages during free time. Currie Craft Center, upper level. Facilitated by Ann Laird Jones
Football Game – Cheer on the Tar Heels in the Lobby area.
Black Mountain Trip – Would you like to go with a group to explore Black Mountain? Sign up at the Registration Desk. 
Sabbath – Take a holy nap in your room or have some good conversation with friends on a Montreat porch. Take extra time to recharge your batteries.