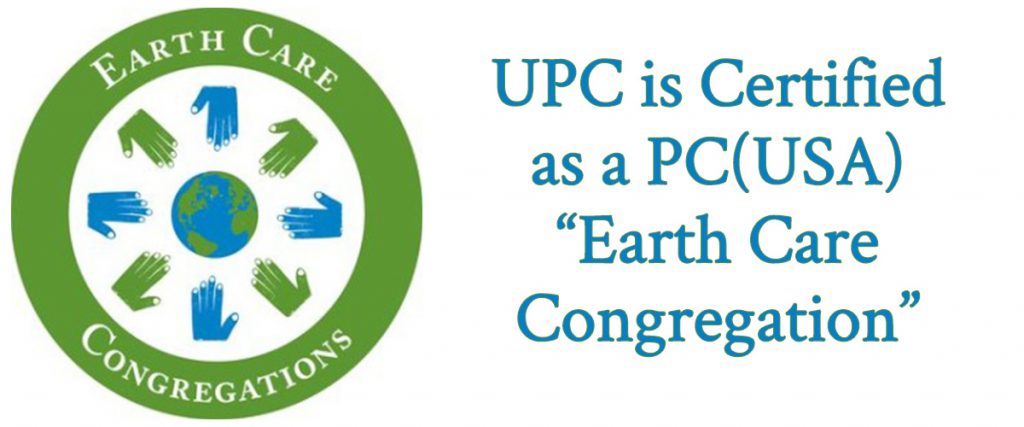 University Presbyterian Church is certified as an "Earth Care Congregation" by PC(USA)'s Presbyterian Hunger Program for 2021. Started in 2010, the Earth Care program inspires congregations to care for God's earth in a holistic way by integrating earth care into all aspects of church life.
Churches must be re-certified as Earth Care Congregations at the beginning of each year based on new earth care actions in worship, education, outreach, and facilities. UPC's Earth Care Team hopes the congregation will be inspired to become even better stewards of creation through our ministry and life together.
Earth Care Pledge
PC(USA) Earth Care Pledge (affirmed by UPC Session 2/14/19)
Peace and justice is God's plan for all creation. The earth and all creation are God's. God calls us to be careful, humble stewards of this earth, and to protect and restore it for its own sake, and for the future use and enjoyment of the human family. As God offers all people the special gift of peace through Jesus Christ, and through Christ reconciles all to God, we are called to deal justly with one another and the earth.
Our 

worship

 and discipleship will celebrate God's grace and glory in creation and declare that God calls us to cherish, protect and restore this earth. 

In 

education

, we will seek learning and teaching opportunities to know and understand the threats to God's creation and the damage already inflicted. We will encourage and support each other in finding ways of keeping and healing the creation in response to God's call to earth-keeping, justice, and community.

Our 

facilities

 will be managed, maintained and upgraded in a manner that respects and cherishes all creation, human and non-human, while meeting equitably the needs of all people. In our buildings and on our grounds we will use energy efficiently, conserve resources, and share what we have in abundance so that God's holy creation will be sustainable for all life and future generations.

Our 

outreach

 will encourage public policy and community involvement that protects and restores the vulnerable and degraded earth as well as oppressed and neglected people. We will be mindful that our personal and collective actions can positively or negatively affect our neighborhood, region, nation, and world. We will seek to achieve environmental justice through coalitions and ecumenical partnerships. 
For more information, visit www.pcusa.org/earthcarecongregations
PC(USA) Climate Care Challenge
As people of faith, we believe that God created this world, called it good and told humans to care for it. We are blessed to have this sacred task. We have the knowledge, skills and resources to reduce our energy consumption and switch to alternative energy sources that are less harmful to the environment. Prompt action and leadership can keep global climate change from causing its worst impacts. PC(USA)'s Climate Care Challenge is a two-part commitment that first asks participants to make a personal step to help decrease the impacts of climate change, then asks for an outward step that engages the participant's community.
Take the PC(USA) Climate Care Challenge at pcusa.org/ClimateCareChallenge
UPC Composts!
***Please email JohnWilsonProductions@gmail.com to be added to the UPC compost list.***
UPC's CompostNow carts may be used ONLY for UPC functions, or by UPC members, UPC staff and UPPS (preschool) staff/teachers for our home compost. 
Please do NOT encourage non-UPC friends, family, neighbors, etc. to use UPC's carts, or collect compost from others to bring to UPC's CompostNow carts. 
Please let non-UPC folks know that they can sign up with CompostNow for home pickup service (first 2 wks free) at https://compostnow.org/offer/upc/   or take their compost to one of Orange County's organic waste drop-off sites (Eubanks Rd., Walnut Grove Church Rd., Carrboro Farmers Market).
Composting Information
Commercial Composting v Backyard Composting
Two posters listing what is commercially compostable in UPC's CompostNow carts:
If you have more questions about whether something is commercially compostable, email thedirt@compostnow.org. Below are examples of what CompostNow has told us:
"paper cups lined with wax (rather than plastic) are compostable and can be included in your CompostNow bin"

"most fast food cups are lined with plastic and are therefore not compostable." 

"The paper bags fast food comes in are compostable, as well as paper materials like burger wrappers and paper fry bags!"

"frozen food boxes are not compostable because the majority of them contain a thin line of plastic on the inside to keep things secure"

"Both paper grocery bags and newspaper are compostable, but should be recycled if possible. If they are soiled with food/liquids and are not able to be recycled, they can be composted!" 

(re: shredded paper): "As long as the paper is plain computer paper and is not glossy/coated, it is fine to include in your carts!"
Watch the video from the Jan. 12 UPC Earth Care Sunday School class: Karin Mills & Linda Bourne, aka "Trashy Women": "Composting, Recycling & Caring for Creation"
Read Why is better waste management and composting important to your faith organization? by Karin Mills & Linda Bourne
Like the "Trashy Women" on Facebook to receive their informative, inspirational and often hilarious posts!: facebook.com/KarinAndLindaGoGreen
Visit "Compost At Home" provided by Orange County Solid Waste Management
Composting at Second Sunday Lunch!
A 2017 study revealed that 78% of Orange County's "trash" sent to the landfill was not trash at all. Almost 50% was compostable!
At Second Sunday Lunches, we've been throwing all of our plates, cups, napkins, utensils and food waste into trash cans destined for the dumpster and landfill. In September, we generated three enormous bags of trash totaling 82 pounds. 
At the October 13 Second Sunday Lunch, UPC's Earth Care Team collected 56 pounds of compostable plates, cups, utensils, napkins, and food waste, leaving only two pounds of lunch trash for the dumpster and landfill! Compare this to the 82 pounds of trash we sent to the landfill from September's Second Sunday Lunch, when we did not compost!  What a difference!
Take Action!
Coffee Mugs for Coffee on the Landing
Help us minimize our footprint by bringing your mug to church. We welcome donations of surplus clean mugs (traditional or travel) to leave at the coffee machine so that we can share with those who forget. After enjoying your warm beverage, take your mug home, wash it, and bring it back for a refill of coffee and fellowship the following week. Thank you for helping the church live out our Earth Care promise!
NC Interfaith Power & Light
NCIPL's Advocacy Tookit: https://ncipl.org/advocacy-toolkit/
Join NCIPL's Youth Leaders Initiative: https://ncipl.org/youth-leaders-initiative/
Participate in NCIPL's Faith Climate Action Week: https://www.faithclimateactionweek.org
Your voice matters.
Write an op-ed or letter to the editor on the importance of environmental protection, creation care, and climate action. Use Scripture. 
Call your senators and other elected officials. Hold your leaders accountable to this moral work. Vote with all of God's creation in mind. Join us in lobbying at the NC General Assembly this May as a part of our annual Advocacy Day.
Sign on (either as a household or congregation) to Interfaith Power & Light's "We're Still In Paris" campaign: https://www.interfaithpowerandlight.org/were-still-in-paris/
Purchase Carbon Offsets:
https://www.cooleffect.org/content/ecoamerica
Donate to NC Interfaith Power & Light
Your financial support helps us empower NC youth in the work of climate justice, perform energy audits across the state, produce materials to aid faith communities in their sustainability work, perform lobbying visits in Raleigh and D.C. (largely regarding renewable energy), travel to congregations state-wide to preach and present, and so much more! Please consider donating as a congregation or individual. Thank you! 
Bill Bray – Citizens' Climate Lobby Presbyterians Action Team
PC(USA) action alert encouraging Presbyterians to "Take Action Now and tell your member of Congress to Support H.R. 763: The Energy Innovation and Carbon Dividend Act." votervoice.net/PCUSA/Campaigns/68918/Respond
Join Citizens Climate Lobby (CCL): CitizensClimateLobby.org
Join CCL's Presbyterians Action Team: Presbyterians Action Team – Group Home – CCL Community
CCL opportunity to write your members of Congress if you didn't have a chance Sunday: https://citizensclimatelobby.org/write-congress-now/#/14/
To join CCL's dialing campaign for Senators Tillis and Burr, email Prakash Bhave at pbhave@yahoo.com
CCL's Raleigh/Durham/Chapel Hill chapter meets the 2nd Saturday of each month from noon to 2 pm at Eno River Unitarian Universalist Fellowship, 4907 Garrett Rd., Durham.
citizensclimatelobby.org/chapters/NC_Raleigh_Durham
Jay Leutze – Standing Up For Land and Water Conservation
Read Jay Leutze's wonderful, award-winning book, "Stand Up That Mountain," the compelling, true story of a North Carolina outdoorsman who teams up with his Appalachian neighbors to save a treasured landscape from being destroyed. https://www.flyleafbooks.com/book/9781451682649
Read this statement from The Nature Conservancy in response to President Trump's fiscal year 2021 budget that, among other drastic cuts, proposes cutting funding for the Land and Water Conservation Fund by 97%: President's Budget Makes Deep Cuts in Conservation Funding
Call Senator Tillis and ask him to co-sponsor Senate bill 1081, the bill to fully fund the Land and Water Conservation Fund
Capitol Switchboard: 202-224-3121
(You can also call David Price and Richard Burr to thank each for supporting the LWCF.)
Below are several links for taking action and getting involved on a federal, state and local level:
FEDERAL
Land & Water Conservation Fund Coalition's "Take Action" page: https://www.lwcfcoalition.com/blog/contactyourreps 
LWCF Funded Projects in North Carolina: https://static1.squarespace.com/static/58a60299ff7c508c3c05f2e1/t/5e38316e9d383458f730efd4/1580740975098/North+Carolina+fact+sheet+1.27.20.pdf
STATE
Land for Tomorrow coalition's "Take Action" page: (for state of North Carolina conservation funding): http://www.land4tomorrow.org/act/
JOIN YOUR LOCAL LAND TRUST!
Triangle Land Conservancy: https://www.triangleland.org
Eno River Association: http://www.enoriver.org
Southern Appalachian Highlands Conservancy (Jay's land trust, based in Asheville): https://appalachian.org
Find your local land trust: https://www.findalandtrust.org/states/northcarolina37/land_trusts
John Wilson – North Carolina Climate Stories
Watch and share the North Carolina Climate Stories videos produced so far (approx. 3 min. each): vimeo.com/ClimateStoriesNC
Watch these 6 minutes of video excerpts from a 2010 sermon titled "The Moral Math of Climate Change" by writer, Middlebury College professor, and 350.org founder Bill McKibben at Hancock United Church of Christ in Lexington, Massachusetts. 
Read these two, recent articles about combatting climate change:
I work in the environmental movement. I don't care if you recycle. Stop obsessing over your environmental "sins." Fight the oil and gas industry instead.
https://www.vox.com/the-highlight/2019/5/28/18629833/climate-change-2019-green-new-deal
How to Stop Freaking Out and Tackle Climate Change: Here's a five-step plan to deal with the stress and become part of the solution.
https://www.nytimes.com/2020/01/10/opinion/sunday/how-to-help-climate-change.html
PC(USA) Climate Care Challenge