Easter Sunday Worship – Outdoor Gatherings
As we are still unable to gather together indoors, we will post a worship video on our Vimeo and Facebook pages on Easter morning. In addition to this virtual option, we will offer brief, socially distanced worship experiences on the front lawn. Social distancing and mask wearing will be required. To help us maintain our protocols, attendance will be limited and sign-ups will be mandatory.
Update as of 3/21/21 – All in-person Easter Sunday worship services are now at capacity. If you already signed up and have questions about or need to make a change to your reservation, please email Erin Collier (communications@upcch.org). For those who were unable to secure a spot, virtual worship will still be available beginning at 6:00 am, and you are invited to bring flowers in the afternoon to add to our cross.
FAQ about In-Person Worship
How can you ensure families will maintain distance?
There will be spaces marked on the grass/sidewalk, safely spaced apart, so that families have a visual reminder of where they should stand. Ushers will be there to indicate where to enter and exit safely and one family at a time, so that no crowding takes place before or after the worship. A thirty minute buffer will be between each gathering time.
Is it safe to sing together? 
According to the International Coalition for the Performing Arts Aerosol Study, we are safe to sing under the following conditions: all participants are masked, outdoors, at least 6 ft apart, and singing for fewer than 30 minutes.
What will we do in the event of rain?
Rain will cancel the event. We will not go inside. A message will go to the email you used on the sign up genius to alert you if we have canceled. We may reschedule to a different date or time, but cannot guarantee we will be able to do so.
What if the slots fill up?
We will be watching sign-ups closely to see if we will need to adjust or maybe add an additional time. However, due to COVID restrictions and out of consideration for our staff, we cannot guarantee a slot for everyone. Please sign up early to help us know how to plan. Virtual worship will still be available for all.
Why should we gather at all?
The mantra we have followed from the beginning of this pandemic is that we need to prioritize safety. We feel that UPC has been faithful to that calling, and we have from time to time offered opportunities for the congregation to gather safely because human contact is necessary. On Easter we celebrate the resurrection of Christ, and while we may not be able to maintain all of our traditions, it is important for us to gather as we are able to rejoice together.
Flowering of the Cross
As you come to worship on Easter Sunday morning, you are also invited to bring cut flowers to add to the cross on the UPC front lawn as a reminder of the new life made known to us through the resurrection of Jesus Christ. Bring them from your yard, pick up your favorite Trader Joe's special, or stop at Harris Teeter on your way to church. Any flower or plants of beauty will do to help bring this cross to life!
If you are unable to attend worship that morning, please bring your flowers in the afternoon and maintain all social distancing and masking protocols.
Gifts of Beauty and Bounty
While we will not be worshiping indoors, we still plan to decorate the front porch with Easter lilies. If you would like to honor or remember a loved one with the purchase of a lily or a donation to the Inter-Faith Council for Social Services (or both), click the button for details about how to give. In lieu of a bulletin insert, a video will be created with the list of names and posted on our website.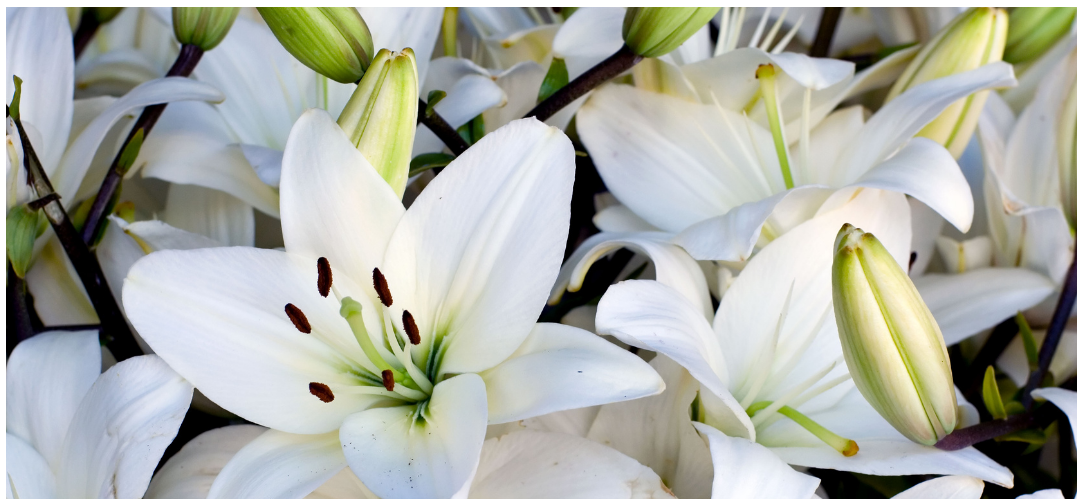 Easter Offering
It is our tradition on Easter Sunday to collect an offering for One Great Hour of Sharing, which supports efforts to relieve hunger through the Presbyterian Hunger Program, promote development through the Presbyterian Committee on the Self-Development of People, and assist in areas of disaster through Presbyterian Disaster Assistance. To learn more about this offering, click here.
To give, click on the button to go to our online giving portal and select "One Great Hour of Sharing" in the fund line. Alternately, you may mail in a check with "One Great Hour of Sharing" in the memo line.