Being Church in a New Day
Worship with us this Sunday at 8:30 am or 11:00 am!

Here we believe that God is love;
and that love is for everyone.
God's extravagant love changes the world
and moves us to respond in gratitude.
Whoever you are and whoever you are becoming,
you are not only welcome here, but invited
to shape this community with your God-given gifts.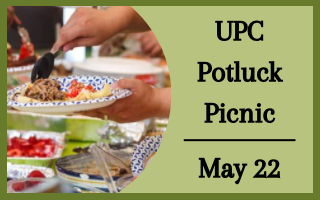 Join us for a church-wide potluck picnic including live bluegrass music by Charles Pettee and "Slippery Hill" on May 22nd following the 11:00 service in the Fellowship Hall. Beverages, fried chicken, and ice cream will be provided; please bring a dish to share...
read more