University Presbyterian Church
All women of the church are invited to join Presbyterian Women (PW).
Monthly Circle meetings are held in members' homes.
2020-2021 Directory (requires password)
Circle 1
Leader: Megan Crunkleton
Third Wednesday, 7:00 PM, Members' homes
Circle 3
Leaders: Daphne Little and Mary Ann Klompmaker
First Tuesday, 10:00 AM; Members' homes
Circle 2
Leaders: Rachel Harshaw
First Monday, 10:00 AM, Members' homes
Circle 4
Leader: Susie Smith
First Tuesday, 10:00 AM; Members' homes
Circle 5
Leaders: Mary Ellen Olson and Betsy Edwards
First Wednesday, 7:00 PM; Members' homes
2020-2021 Horizons Bible Study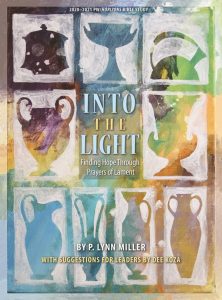 Into the Light: Finding Hope Through Prayers of Lament
By P. Lynn Miller
In this nine-lesson study, Lynn Miller revives lament as a proper theological response to the difficult situations of our world. One of the foundational points of the study is that, in scripture, lament usually leads to hope. After crying out to God, the one who laments remembers God. And while that doesn't fix things in the moment—the injustice, the loss still exists—the lamenter is strengthened to face the world and to hope. And for us as Christians, hope is not just an emotional response or an attitude of pie in the sky. Hope implies movement: both God's inherent movement toward justice and our movement toward God. Recovering lament may be one of the church's most timely gifts to the world.
For additional information, please contact a Circle Leader, PW Moderator, Catherine DeMaere, or Membership Coordinator, Tracy Woody. Thank you!
---
Community Kitchen Third Thursday Table, 100 West Rosemary Street
This is a long-time service project of UPC PW that is temporarily halted.  These assignments are for when we are invited and able to resume the project.
September 17……………. Coordinating Team

October 15…………………… Circle 3

November 19……………….. Circle 4

December 17………………… Circle 5

January 21…………………… Circle 2

February 18…………………. Circle 3

March 18…………………….. Circle 4

April 15……………………….. Circle 5

May 20……………………….. Circle 2

June 17……………………….. Circle 3

July 15………………………… Circle 4

August 19……………………..Circle 5
The designated Circle should provide two helpers to assist in the kitchen from 10:00 AM to 12:30 PM and should provide 10 long loaves of sandwiches cut in half, placed back in the original bread wrapper, and labeled as to contents. Do not wrap individual sandwiches. If needed, call on other circles for either sandwich makers or kitchen helpers.
FELLOWSHIP OF THE LEAST COIN (Donation collected at each circle meeting)
This is a worldwide ecumenical movement of prayer for peace and reconciliation conducted by United Church Women. PW circles support this on an individual basis. Our yearly collection is sent to our PW Presbytery Treasurer and then to the national office for worldwide grants.
The prayer: O Loving Creator, we present ourselves in your divine presence to thank you for all the bountiful gifts of life. We are especially grateful for the Fellowship of the Least Coin which binds us together in love and forgiveness around the globe. Free us from all doubts and prejudices, we pray. Inspire us to live in solidarity with humankind that we may know the joy of giving and receiving. Dear God, accept this least coin "token of love." Make us mindful of the miracles of these coins. Let us honor your creation with love as shown through the life and resurrection of your son, Jesus the Christ, Amen.