The Godly Play Children and Worship (GPCW) program is designed for children age four through Kindergarten. Children will begin the 11 a.m. worship service in the sanctuary with parents. Following the Children's Time, the GPCW children will go with the Assistant for the day to the GPCW room located on the first floor near the Youth Center. New parents and parents of visiting children are welcome to walk with the Assistant to the GPCW room.
Before entering the room, children will receive a name tag and ready themselves for entering the sacred space for wonder and worship. After greeting time, hearing, and seeing the Bible story for the day, children are invited to respond to the story through art.
On special Sundays the children will share the Feast, a simple experience of "table fellowship." Each child receives a blessing from the storyteller as they leave the GPCW room, reminding them that God's love is always with them.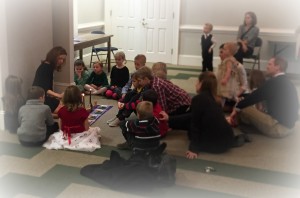 As children live into the stories of scripture, they come to know themselves as Children of God, Christ's ministers in the world. The GPCW program recognizes children as spiritual beings who already have a relationship with God. Adults are guides who offer space, tools, and language which help children deepen their already existing relationship with God. In GPCW we trust that given the opportunity, children will bring their own life experiences to the stories of God and will receive what they need. At the heart of a GPCW session is the telling of the story, experienced in the contexts of both the chronology of scripture and the church calendar. The storyteller uses simple, beautiful materials to illustrate the story and to engage imagination. The structure of GPCW and the classroom itself offers children a safe space to explore, wonder, and worship.
"I wonder…" This is the open-ended response from the storyteller whose role is to encourage children to listen to God, ponder, and to grow closer to God.
Children are, after all, Theologians!